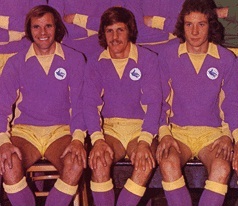 I've just finished watching a programme in which Dean Saunders investigated the impact Wales' success in the Euros this summer has had on grass roots football in this country. This sounds patronising, but I wasn't expect a great deal from the programme because I thought it would be a rose tinted view of things, but I ended up being impressed – it was well researched and there was a degree of realism involved that I didn't see coming, but, essentially, the conclusions reached were optimistic ones which suggested that at it's top and bottom levels, Welsh football is in good health.
Unfortunately, at the next level below the national team (i.e. the four senior Welsh clubs that compete in the English pyramid system), the situation is completely different – in fact, it could be argued that things are as bad as they've been for more than a decade.
After all, we are currently coming to the end of an unprecedented week where three of them have sacked their managers and with Wrexham's dead man walking boss Gary Mills having seen his team lose at home last night, there's still time for the North Wales club to make it a quartet of managerial dismissals (I've just checked and he's not gone yet!).
Newport's former boss, the ex City striker Warren Feeney, went after County's 1-0 defeat at Grimsby eight days ago which left them at the bottom of League Two and Swansea's Francesco Guidolin was sacked on his sixty first birthday on Monday with his former side only being kept put of the relegation places on goal difference following a run of no wins since the opening day of the season.
Both the decision to dismiss Guidolin and the manner in which Swansea went about it has, seemingly, caused great consternation among jacks supporters with what I believe was a unanimously negative feedback being recorded on the Radio Wales phone in held on Monday to discuss the sacking and the appointment of new boss Bob Bradley.
Last night, there was another phone in to discuss the latest sacking at a top Welsh club and this time the response was completely different.
I can remember Bobby Gould, Alan Cork and Dave Jones out of the crop of City managers we've had this century losing their jobs after chants were heard against them at what turned out to be their final game in charge and now Paul Trollope can be added to the list.
A cruel rendition of "Trollope for England" heard at the 2-0 defeat at Burton on Saturday signified the moment when the widespread individual disquiet with the Head Coach turned into something more unified and significant and while a "You're getting sacked in the morning" chant turned out to be forty eight hours or so out, go Trollope did with City last but one in the Championship following just two wins from the dozen competitive matches he had charge of.
City's triumvirate at the top when it comes to off field management (Vincent Tan, Mehmet Dalman and Ken Choo) have come in for a lot of criticism as the team have slid down the table and so they may have been a little concerned as to how their decision to dismiss Trollope would be received, but they need not have bothered.
That phone in last night I mentioned earlier did not attract one caller saying the decision to change the manager/Head Coach was a wrong one – if there were any complaints, they were that it wasn't done quickly enough.
Usually when there is a change of manager at a football club, you get a range of views for and against it, but it seems to be completely different as far as Paul Trollope is concerned. Trollope did still have the odd supporter here and there (one of which is an occasional contributor on here), but, essentially, the range of views expressed went from sympathy for a man who could still have a good future in the game, but had to go, to something approaching joy that he had gone.
I was in the former camp and still thought Trollope could survive before the Burton game, but that listless defeat coming on the heals of that tepid showing against Derby had me believing it would be best for all concerned if a change was made – it was the complete absence of signs of any improvement which did for me in the end.
There were two other departures – Assistant Lennie Lawrence and Performance Director Ryland Morgans were seen very much as Trollope appointments and so it was almost inevitable that they would go if he did.
The departure of Lawrence made it hard to guess who would be taking over on a temporary basis as the search for a new manager went on, but, almost immediately, there were online stories linking us with Neil Warnock appearing and things moved on so quickly then that, by yesterday evening there was a general acceptance that the hugely experienced Warnock would be our new boss. This was confirmed early this morning with news that Keven Blackwell and Ronnoe Jepson (both of whom have extensive experience of working with Warnock) had also been appointed as Assistant Manager and First Team Coach respectively.
So, just as the jacks had their new manager in place less than twenty four hours after the old one left, so have City, but the comparison ends there because, while Huw Jenkins and the new American owners have been criticised by club supporters for the Bradley appointment, there has been widespread praise for their equivalents at Cardiff for the Warnock appointment – it's fair to say that Messrs Tan, Dalman and Choo are currently basking in the praise which has followed their best day of the season so far.
Certainly, if it all goes wrong for Neil Warnock here then the only way our owner and his close associates could be blamed would be if there is a falling out between the two parties over something like interference in Warnock's work from above – always a possibility given the personalities of Messrs Tan and Warnock I suppose.
Apart from that set of circumstances, it's hard to see how Tan, Dalman and Choo can be criticised in the future on this appointment anyway. They acted quickly and decisively to remove someone who was just not delivering the required results or team performances and replaced him soon after with a man that has a reputation which is almost second to none (in fact, it may be second to none) where the Championship is concerned – speaking as someone who is not slow to have a go at the three gentlemen concerned, I'd say Messrs Tan, Dalman and Choo deserve to be praised this time.
That said, I'm pretty sure I'm not the only City supporter to have been no great fan of Neil Warnock in the past. In fact, in this piece under the part headed "the performance of Crystal Palace" from the very early days of this blog, it is very clear what I thought of Mr Warnock in October 2009.
I would say however, that events since then have made me reconsider those opinions to some extent. For a start, while I don't think we'll ever be praising a Neil Warnock side for it's beautiful, flowing, football, his QPR Championship winning team in 2011 were capable of playing some very watchable stuff and a lot of that was down to our new manager being able to persuade very high level performances out of the brilliant, but moody, Adel Taarabt.
Although it was a tempestuous relationship at times, I would have thought that, given the way his career has gone since leaving QPR, Taarabt would have to pick Warnock as the best manager he's played under. All of this, despite me having the Moroccan down as exactly the type of player our new manager would have got shot of while barely giving him a chance previously.
Warnock left QPR in 2012 and with subsequent spells at Leeds, Palace and then QPR again not going that well, it would have been easy to think that the man who has won promotion from this division seven times had lost his mojo, but then rescuing Rotherham from the drop in the final third of last season would have to be regarded right up there with his best achievements in management.
Upon checking it, a record of won six, drawn six and lost four at Rotherham was quite a bit worse than I expected it to be, but it doesn't really tell the whole story, because, after only picking up one point without scoring a single goal in his first three matches in charge, Warnock's Rotherham reeled off six wins and two draws in their next eight games to put so much distance between them and the bottom three, that they could still finish nine points clear of the drop despite not winning any of their last five matches.
So, basically, Warnock was able to save the side with the smallest budget in the league from relegation within about two months of taking over – that's an incredible achievement I feel.
Certainly, having thirty five matches to rescue City from the drop when they are currently only one point adrift of the safety mark would appear to be a doddle compared to what he faced at Rotherham, but I stick by what I said in the final paragraph of my piece on the Burton game;-
"We are a club that you just cannot see making a Terry Burton type appointment at the moment and if, more by luck than judgment, we were able to appoint the "right" man to replace Paul Trollope, even an experienced old hand like, say, Neil Warnock would be taking on one of the biggest jobs of his career if he came here – we are getting it wrong on so many levels and have been doing so for at least a couple of years."
As can be seen, I used Neil Warnock just as an example because there was nothing but wishful thinking on the part of a few messageboard posters linking him to Cardiff at the time and, being optimistic, I'd like to think that, perhaps, the appointment of someone who is one the most least likely yes men on the planet might be seen as an early sign that, finally, the penny has dropped among the club's hierarchy that it's best to let football men get on with the football.
Neil Warnock is someone who I never contemplated as a possible for the City job when it became vacant after the departures of Ole and Russell Slade, for the simple reason that he would be too much of his own man for Vincent Tan's tastes. However, with us "getting it wrong on so many levels", it may be that we might start resembling what passes for a normally run club in this industry.
So, assuming Neil Warnock is allowed to get on and manage, what can the players expect from him. Well, firstly, I make it that three of them will have a very good idea of what's coming after working for him in the past – Matt Connolly was a regular in that 2011 QPR side I mentioned, Warnock tried to sign Lee Peltier for £3 million when he was at Loftus Road and appointed him as his captain when he took over at Leeds and Stuart O'Keefe would have been at Palace when he was there.
A term I see used very often in relation to Neil Warnock is "old school". It's a bit of a tired cliche to apply I suppose, but, as someone who is old enough to have cut his teeth at a time when the job of managing a football club was much different to what it is now, it is easy to conjure up this mental image of him having nowt to do with these new fangled diets, analytics and performance stats.
I daresay this is an image that Warnock plays up to a bit himself, because it's hard to imagine someone who is completely averse to new thinking and methods being able to stay in the game as long as he's done. Deep down though, he does seem to be an old fashioned motivator at heart and, to my mind at least, that is exactly what the City team has been most in need of over the past couple of months.
I have an inking that if "the Cardiff Way" still exists, our conversion to it will be put on hold for the rest of the season at least, because keeping us in this division by any means possible will have become the order of the day for our new manager and highfalutin ideas about a club identity will be for someone else to introduce.
In saying that, as the manager who included a fifteen year old John Bostock in the Palace team which visited Ninian Park in November 2007, Warnock has shown that he may not be averse to including a kid in his team in the way that a predecessor of his at Cardiff, who also could be termed old school, was.
I always think that a facet of football management which does not get the credit it deserves is the ability to improve the players you inherit when you go to a new club. With no loan window to fall back on, this is a talent which becomes even more vital this season and I'm sure Neil Warnock will, rightly, believe that he can do that with the City squad.
However, given the very poor level of performance we have seen in virtually every game this season and with confidence levels being as low as I can remember them being at any time since our return to the second tier thirteen years ago, that level of improvement will need to be a lot bigger than what you might normally expect when a manager with a reputation like Warnock's goes to a new club – especially one with a historically "eccentric" way of being run. What I will say in finishing though is that I feel better about City's immediate prospects today than I have done for months on the back of the new managerial appointment.
http://mauveandyellowarmy.net/