Love him or hate him Neil Warnock knows a thing or two about managing in the Championship. The former Sheffield Utd, Palace, QPR, Leeds etc etc manager - he's managed eleven different clubs in his career at all levels of the game - has seen it, done it and probably has a draw full of t shirts.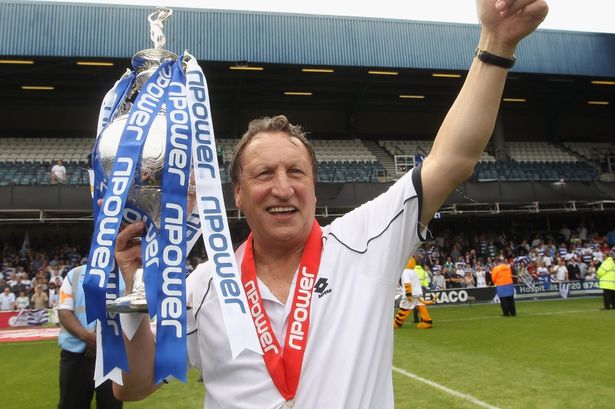 Immediately after Paul Trollope's sacking today Warnock's name was linked. Other names were thrown in the ring, Giggs, Bruce, Mowbray - I even saw someone call for Russell Slade to come back, and John Toshack.
But it's Warnock who leads the way. He was 1/7 with the bookmakers this afternoon and Sky Sports are reporting that their sources say he will be in talks almost immediately.
Sun reporter Tom Barclay thinks he will be in post by tomorrow
Understand Neil Warnock will be appointed #CardiffCity boss tomorrow

— Tom Barclay (@TomBarclay_SUN) October 4, 2016
If Warnock takes the job it will be the second consecutive season he's have been called our of retirement, he's 67, to resuce a failing club. In February he joined Rotherham and took them on a run that saw ony four losses in 16 games and saved their Championship status.
At Cardiff he'll have the luxury of more time, a transfer window and a real challenge to get the club challenging at the top end of the table.
City's next game is at home to Bristol City on October 14th, a game that's live on Sky, ko 7:45pm.
That's followed five days later by another home game, this time against Sheffield Wednesday before another live TV game at Nottingham Forest on Saturday 22nd.
The coming week for Cardiff off the pitch is massive to get a man in place and in control of the team and the following week is huge on the pitch as two games are played out on live television as City look to arrest their slide and start to make progress up the table, not down.
There's a high profile role for someone waiting at Cardiff City and with all his experience and attraction to the attention a job like this can bring I think Warnock would be the perfect appointment.