Neil warnock spoke to the media on Friday ahead of today's Championship clash with Millwall. After last night's win for Sheffield Utd at Leeds Cardiff need to win to move back to at least 2nd place.
Warnock on. Injuries to Zohore, Gunnarsson, Camp and Harris
They're doing light training, but I don't think they'll do enough to push for Saturday. I'm not convinced.
You just don't know with Gunnars, he could play anytime, but I don't want to play if he's not right and I've told him that.
Zohore is still a bit tender, he did some light work, but with three games in a week and then two weeks off, I don't think we should jeopardise anything longer-term even though I know they're important games.
And how about Lee Camp?
His knee is perfect but he's had a bit of a groin issue for the last three weeks.
We thought it was because it was him not kicking for so long. We saw someone and we thought he might need a minor operation to release the tension in it, but then he pulled his thigh. That's going to take three weeks, so we thought he might as well see the surgeon and he's had the little nick in the groin he needed, so it will take the same amount of time.
The poor lad because he's desperate to be playing again and it's frustrating for him. Same as Kadeem who's flying in the gym but that's two good players to come back.
Warnock on. The prospect of Craig Bryson becoming a permanent transfer
Not thought about it yet, it's October, we've got him for the season. He's like Joe Ralls, low maintenance, you don't know he's there but on the pitch he's a credit to you, conducts himself well off the field. Smashing lads, I think they both enjoyed the challenge without Gunnars last week, to fill that gap. I wasn't sure they could do what I wanted them to do but they did it admirably.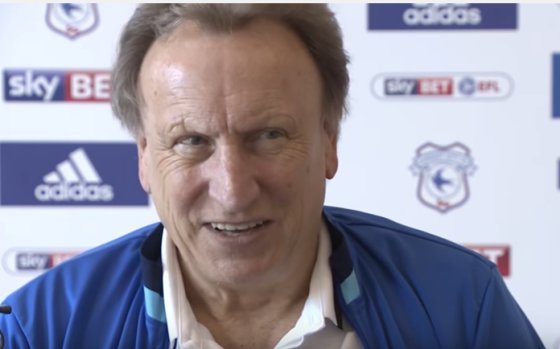 Warnock on. Not watching penalty kicks
I've done it almost all my career. I couldn't take one either. I wouldn't criticise anyone for missing one because I wouldn't have the guts to take one, I haven't got the bottle. It takes a certain man, cold-hearted, coolness, whatever. I'd just panic myself whenever I got near one and I'm the same now. I don't enjoy them. I think I watched one years ago and they missed it and I've not watched one since.
How does Ralls compare to Whittingham as a penalty taker?
Peter was exceptional, the best I've ever seen I think. James Beattie was like that, I don't think he missed one. Le Tissier the same, just so cool and calm. But it's about time one of those two (Ralls and Bryson) got a goal in open play soon.
Warnock on. Millwall
I think they're better than that and have more ambitions than just staying in the division. I read a few comments from Neil (Harris) over the last few weeks about how people might have expected them to be in the bottom two or three but his lads have really responded. I don't think they're dissimilar to us when I first came to the club.
They've got a togetherness, ability in the wide players and Morison up front who I had at Leeds who is a very good pro, always likely to score and you don't want to play against him because you know you've been in a match.
There's different challenges from different departments and that's why it's important the fans turn up. We've earned that right to get a good crowd and get them behind us and it might be the difference.
And finally.
I think it's going to take an off-day like at Preston or Birmingham or a very good side to beat us — but that's home and away. Yes, you win your home matches which is great to know you can do that, but away from home is important as well. I think we've learned a bit from Preston and Birmingham away from home and we showed that at Middlesbrough. We can't just go gung-ho because nobody's good enough to do that in the Championship.
You have to be a little bit more organised. Whereas at home, I want to enjoy the football and the lads to enjoy it. We won't win every game, but I want us to have a go and look at different ways of doing that. It's a really good challenge for managers the Championship this year.