No Bellamy comment on City speculation
By Michael Morris
Updated Sunday, 8th July 2012
Views: 47
Craig Bellamy has met up with his Olympic team-mates today for Team GB's kitting out.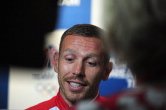 Bellamy is one of three over 23's in Stuart Pearce's squad, the others are Micah Richards and skipper Ryan Giggs.
When asked about his future Bellamy said
''I've not said anything about my future and I'm not going to,'' he said.
''I play for Liverpool and Wales and I'm representing Great Britain at the Olympics - and that is it.
''But as long as I'm fit I'll be playing football no matter what.''
Bellamy played the 2010 / 2011 season at CCS before joining Liverpool last summer. The last few weeks has seen plenty of speculation that he could be about to come back to South Wales.
Speaking about his selection he continued
''It's a great achievement. When you look at the players who were all short-listed to be part of this, it's an incredible to be selected as one of the three over-age players.
''It's also testament to where I've been in my career as well.
''I'm turning 33 next week and my fitness levels and speed are still there, and that's because I've worked really hard after all the injuries I've had.
''I'm just very proud and - do you know what - I'm very proud of myself and I don't mind saying that as well.
''It's not just because of this, but where I've come from and how hard I've had to work throughout my career.
''There's been lots of ups and down but I actually look back for the first time and can be very happy about things.''
Interact with us