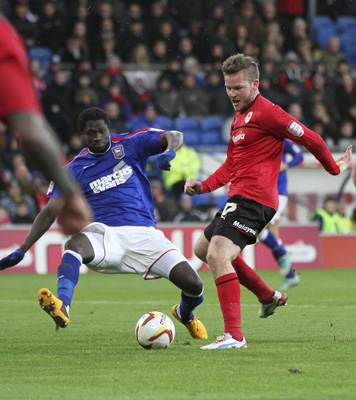 So City's lead is now 8 points over 2nd placed Hull after the Bluebirds were held 0 - 0 against Ipswich at CCS.
Crucially the lead over 3rd place is now 10 points.
A wet and very cold afternoon at Cardiff City Stadium between two sides both showing good recent form produced a reasonable game of football but delivered no goals.
Cardiff struggled to produce a quality passing game while Ipswich did manage to keep the ball well and with a thumping shot off the post in the first half and an effort just wide with the last kick of the match the visitors will feel they more than deserved a draw.
Of the more noticeable moments Rudy Gestede was subbed at half time after a very poor first half. Tommy Smith returned to action as a second half substitute after several weeks out.
Michael Chopra came off the bench for Ipswich and was given a decent welcome by the Cardiff crowd.
The team to watch is Leicester City. A 4 - 0 win at Ashton Gate by the Foxes cost the Bristol City manager his job and moved Leicester 3rd. They join Palace and Middlesbrough, who both lost, on the same number of points. Hull stay second after they were beaten at home by Sheffield Wednesday.
Next week City are live on Sky with a 5:20pm kick off away at Blackpool.
Top 10
Home

Away

Overall

#

Team

Pl

W

D

L

F

A

W

D

L

F

A

W

D

L

F

A

Pts

GD

1

Cardiff City

27

12

1

1

25

8

6

2

5

23

21

18

3

6

48

29

57

+19

2

Hull City

27

8

2

4

21

14

7

2

4

17

16

15

4

8

38

30

49

+8

3

Leicester City

27

9

2

2

32

11

5

3

6

16

12

14

5

8

48

23

47

+25

4

Crystal Palace

27

8

4

1

33

16

5

4

5

17

19

13

8

6

50

35

47

+15

5

Middlesbrough

27

10

1

3

29

16

5

1

7

18

22

15

2

10

47

38

47

+9

6

Watford

26

6

2

5

20

15

7

2

4

29

22

13

4

9

49

37

43

+12

7

Millwall

27

7

2

4

20

15

4

6

4

20

21

11

8

8

40

36

41

+4

8

Brighton & Hove Albion

26

5

6

3

20

13

5

4

3

17

14

10

10

6

37

27

40

+10

9

Nottingham Forest

27

7

4

3

21

16

3

6

4

17

20

10

10

7

38

36

40

+2

10

Burnley

27

7

4

3

22

14

4

2

7

19

26

11

6

10

41

40

39

+1