Another 12.30 Saturday televised game, another 2-0 defeat, but if my piece on the defeat by Swansea last weekend was something of a rant, this time I'm more philosophical because all today's loss at Norwich did was re-emphasise the problems caused by the policies pursued over years which has turned us into the sort of team we are.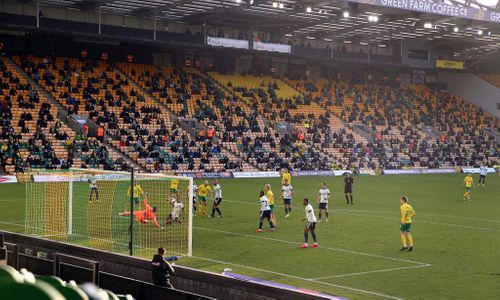 We're a side that can and will overpower and bully many of our rivals in this league, but the Championship has moved on since 17/18 when we were stronger than all but Wolves. Furthermore, with many of the survivors from the promotion squad having moved from the age where footballers are considered to be at their peak to when they are beginning their journey into the footballing Twilight Zone, we're now a side that the better teams in the division can swat aside unless we're really on our game.
We were some way short of that today and we only had Sean Morrison from set pieces to trouble a Norwich side that have taken over the mantle of best team we've played so far from Bournemouth as far as I'm concerned.
Two seasons ago while we were on loan to the Premier League for a year, the Championship seemed to become a quicker, more technical and more attacking league. Norwich were deserved Champions that season with a team built around a fairly ordinary defence for a side that were division winners (but they did have two young, dynamic attacking minded full backs), a midfield full of skillful, nippy footballers and support attackers and a striker signed for nothing who couldn't stop scoring in Teemu Pukki.
I'd watch Norwich, and a few other teams in the Championship two seasons ago and think they were so much better than we had been the previous year. Norwich seemed to have the players and approach that could see them survive at the higher level.
In the event, I'd say that, apart from Huddersfield in 18/19, they were the weakest team the Premier League has seen in recent years – "weakest" being the operative word because, besides their defence being as porous as I feared it might, those neat touch players in the middle of the park found themselves overpowered by opponents who could match their ability and had the advantage of being physically stronger and at least as mobile as them.
Norwich returned to the Championship with a paltry twenty one points, but, like the other relegated sides, were probably helped by the shorter summer transfer window this time which meant that they may not have had the number of departures that they would have otherwise.
Whatever the reason, the signs so far are that Norwich are on their way back to the Premier League – they've lost one of their bright, young full backs, but their defence looks a little more secure than the 18/19 one and they've still got the same qualities in midfield, with Pukki finding Championship goals as easy to come by as he did first time around – most of the time anyway!
Based on what happened last time, I fear for Norwich's attractive brand of pass and move football at the higher level if they do go up, because the similarities with two years ago are marked, but that's for the future – for now, they look the best side in the division and this is backed up by what the league table says.
It seems Championship teams cannot cope any better with Norwich than they could the last time they were in this division and, sadly, there was further confirmation of that today.
I know I go on and on about our midfield, but that was the area where we struggled most today. While some allowance has to be made for the fact that Will Vaulks has played seven games in twenty two days in a two man central midfield that has often been outnumbered, I'm not sure it would have made too much difference if Neil Harris had approached things differently.
By that I mean if our manager had decided to employ the returning Joe Ralls, in for Gavin Whyte, in a deeper role to give Vaulks and Marlon Pack more support (as I would have favoured), I cannot see that it would have made a great deal of difference to the way things panned out.
Ralls, much like Robert Glatzel and Harry Wilson (pushed out on to the wing again), was largely anonymous, while Sheyi Ojo was better than he had been on Wednesday and was the one who suggested he might make something happen, but the brutal truth is that we offered virtually nothing in the way of an attacking threat from open play.
Ralls did bring a little bit of order to our central midfield when he dropped back after the fit again Junior Hoilett had come on to replace Pack, but the game was over by then as Norwich had doubled their lead within just three minutes of the change.
Vaulks tried his best, but he was chasing shadows in much of the way he did against Swansea, while Pack having shown on Wednesday that, contrary to what I often claim, we do have at least one midfielder who can pass the ball well if he is given the time, had a torrid afternoon as he was never given those seconds in possession that Birmingham allowed him. Misplaced passes by an under pressure Pack played a part in setting up a couple of what were a string of second half chances on the break for Norwich and, without an unusually charitable contribution by Pukki, who may have had his mind on other things following the birth of his family's first child yesterday, it could have been a trashing for us I'm afraid.
City employed a higher press after the interval, which had worked well while it lasted on Wednesday, but this time all it did was allow Norwich to play around them and create overloads in our defensive areas. However, despite all of their chances, Norwich had to rely on long distance efforts from Emiliano Buendia and Todd Cantrell, both expertly taken in their different ways, for their goals.
Buendia and Cantwell were playing a different game to that of our midfielders – "between the lines" is a fairly new phrase which has crept into the game in recent seasons, but equivalents of it have been around for ages as players adept at exploiting the gaps between a team's defence and those generally ten to twenty yards in front of them operate in areas designed to cause uncertainty in opposition ranks.
Buendia and Cantwell did much of their most effective work "between the lines" today, some of their team mates were eager to join in as well, and City never really looked like solving the problems they were causing. Early in the game, Sky's commentators observed that City were getting the "little things" right as they enjoyed a relatively untroubled first quarter, but, for the first goal, especially, Pack and our two central defenders got a little thing wrong and the result was the ball ended up in our net.
We have players who are effective between the lines, but, in the absence of Lee Tomlin, there isn't really someone who is reliably good at it in central areas – certainly none of our central midfielders are. Pack is our concession to passing football, Ralls can contribute effectively as well and we're missing Bacuna's athleticism in the middle of the park, but, in many ways our midfield four are much of a muchness – there is nowhere near the variety you'd expect from a group that, individually, I'd rate as being pretty decent Championship midfield players.
The reason we ended up with a midfield quartet like the one we've got can be traced to Neil Warnock and his liking for "bread and butter" players in that area. It was a "leave the fancy stuff for others" approach which he was able to make work in 17/18, but its limitations became more apparent with the signings he made in that area – Warnock never really improved on the two "bread and butter" players he inherited at Cardiff, Ralls and Aron Gunnarsson.
Despite the reputation he gained while managing Millwall, Neil Harris arrived here a couple of transfer windows ago with talk of a change of approach from the Warnock days and yet there has not been a single new signing made in the area of the team that you would have thought was most in need of adjusting if that change in approach was to be effective – I find that puzzling in someone who I'd still say has done a pretty good job as far as City boss.
All City had to offer in reply was three headers by Sean Morrison from a combination of free kicks and corners as he went halfway to justifying Norwich boss Daniel Farke's claim that he was the best player in the Championship for getting his head on the end of attacking set pieces.
I say halfway there because, Morrison really should have scored at least once given his prowess in such positions. Veteran Northern Ireland international goalkeeper Michael McGovern, deputising for the injured Tim Krul, dropped on the first one just as the ball was crossing the line, but Morrison's header was not as well placed as it could have been. I'd say the second one was more down to a great save than Morrison doing much wrong, while the third one was, perhaps, the best chance of the lot, as McGovern missed the cross, but our captain was unable to keep his far post header down.
Neil Harris said his team looked a bit "leggy" today and that was an impression I'd definitely formed. Therefore, having a week before they play again will help in that regard, but that period of recuperation is not going to give our midfield in particular the speed, mobility and passing accuracy that they lacked here and lack in most of the games they play – moving the athletic Leandro Bacuna into the middle would help with one or, maybe, two of those issues, but then who plays right back? Surely central midfield has to be the area that Neil Harris will be looking to strengthen next month, but, as mentioned above, I was saying much the same in July and nothing happened.
Given the, hopefully, unique circumstances of this Christmas, it seems to me that we may see a much increased number of gift tokens/cards given as presents. Therefore if you're a City supporting receiver of such a gift why not take a look at my new book "Real Madrid and all that" when cashing in your present? In fact, if you're buying for a City supporter or are one yourself, you could do a lot worse than buying a book which has received excellent reviews (with one exception!) – here are details of what the book is about, what formats it can be bought in and where it can be bought, you can also read its mixed reviews!