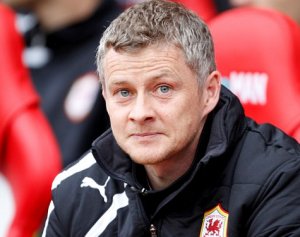 Ole Gunnar Solskjaer faced the media after defeat at St James sent Cardiff City back to The Chmpionship.
Solskjaer admitted that being releagted was the lowest point of his career so far but like many others before him he vowed to bounce back and get the club back to the Premier League.
"The realisation that we're down is hard to take," Solskjaer said.
"It's the lowest moment of my career and it's the same for many of my players.
"The threat of relegation has been lurking there for quite a while, but now comes the realisation.
"You've just got to face the facts, and I'll face the situation head-on.
"From a personal viewpoint, I didn't make the impact I'd hoped for and believed I would, and that's something for me to chew on now for a little while."
Solskjaer will need to sit down with owner Vincent Tan to plan a strategy for next season, assuming one or both are still at the club.
Cardiff still have unfinished business with Chelsea coming to Cardiff City Stadium next Sunday.
"I'm not going to feel sorry for myself, I'm going to work with my staff and players this week, aiming to end the season with professional pride with a strong performance against a very good Chelsea team, after which we start planning for next season.
"Now is not the time to reflect on what's gone on this season," Solskjaer said.
"When a team's at the bottom, there's many things that have gone against them, and there are things we've not managed to put in our favour both on and off the pitch.
"That needs a bigger evaluation than is possible just sitting here now. It's very disappointing, we're very low and the dressing room is a quiet place right now.
"It's not a nice feeling, but we've got to show we can bounce back."
Alan Pardew vowed to battle on as Newcastle manager after being subjected to a torrent of abuse despite seeing his side end its six-game losing run.
The Magpies beat Cardiff 3-0 at St James' Park to secure their first win since March 22, relegating the Bluebirds in the process.
However, the game was played out amid a tense atmosphere as home fans, several hundred of whom walked out at two pre-arranged points in the second half, aimed chants at Pardew and owner Mike Ashley.
The 52-year-old, who was booed by a section of the crowd whenever he stepped out of the dug-out, chose not to join the players on the pitch after the final whistle, but he is refusing to be bowed.
He said: "I am frustrated a little bit, of course. Some of the criticism has been a little bit left-field and a little bit over the top, and that's fuelled the anger here.
"You have to accept that, unfortunately, when you lose six as a Newcastle manager.
"They are upset, they are angry - I understand that. I apologise to them for the last six games and hopefully, we have taken a very, very small step towards them.
"Coming to the sideline, I was only antagonising them and I don't want to do that and make the atmosphere worse for the players, so it seemed a lot more sense to let [assistant manager] John [Carver] do that and take a seat."
Newcastle supporters repeatedly sang Hatem Ben Arfa's name with the midfielder among the crowd after once again being left out of the matchday squad, and Pardew was forced to dismiss social media rumours that the pair had come to blows.
"I have seen that. It's an absolute load of rubbish. He came and shook my hand at the end and that was it," he said.