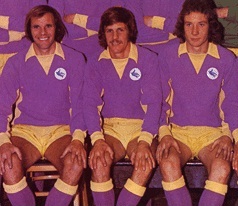 Millwall's 2-0 win at Ipswich a few hours earlier rendered City's final game of their regular season, against Crystal Palace at Cardiff City Stadium, last night irrelevant as far as the chase for the second Play Off spot was concerned, but that didn't stop the match turning into an enjoyable affair with the home team running out deserved 3-1 winners.
In the end, the 2-1 loss at Northern Section Champions Huddersfield eight days ago proved crucial. It was our only defeat since the turn of the year, but it was enough to see Millwall edge in front of us.
The final table shows you how tight it was. Although on nowhere near the same scale this time of course, there seems to be something about Huddersfield and penalties with us – ninety two years ago, a missed penalty by Len Davies at Birmingham saw us finishing second to the Yorkshire side in the old First Division by the smallest of margins and now if Kadeem Harris had scored, instead of having his penalty saved, last week, City, not Millwall, would have been preparing for another trip up to Huddersfield for a Play Off Semi Final.
Obviously, there's no need for Harris to feel any guilt about what happened last week and, on the evidence of his few minutes against Bolton with the first team on Saturday and his performance last night, he's not playing like someone lacking in confidence. Against Palace he turned one of those intermittent performances he comes up with at this level which has you wondering why he doesn't play more of a part in the senior team.
Yesterday morning I replied to a comment by one of the regulars who help make the Feedback Section of this blog such a great read, by saying that the days of a wide player getting past his marker on the outside and then reaching the byeline to pull back a cross with his stronger foot appear to be dying away – after watching last night's match, I'm not quite prepared to concede I was wrong, but I will say that maybe the patient isn't quite as close to death's door as I thought they were!
Harris was one of four City players who at various times displayed what I would call old fashioned wing play as they got to byeline and put over inviting crosses. Matt Kennedy played a part in all of the goals with the first and third coming as a result of him going outside a marker and knocking back low crosses – both times Kennedy crossed with the foot that was closer to the byeline, but the encouraging thing was that he did from the right the first time and the left the second.
Palace's full backs (they used three of them after making a change at half time) grew used to seeing Harris or Kennedy go past them on the outside. However, if that wasn't enough, they also had to contend with David Tutonda tearing up and down City's left flank in the manner which makes him such an effective performer at this level and while right back Dylan Rees wasn't quite so adventurous, he showed, on more than one occasion, an ability to deliver quality crosses from close to the byeline.
One of the Palace full backs was ex Manchester United and Spurs man Zeki Fryers and with the visitors fielding four players with first team experience at Football League or Scottish League level and a seventeen year old who was on the bench for the first team at Old Trafford last week (Luke Dreher), it was hardly as if City were up against a team full of kids.
Nevertheless, although Palace were lively attackers in the first half in particular, they always struggled to contain City when they came forward and there could easily have been further goals for the home team.
City did not take long to create chances as Rhys Healey did very well to burst clear of a couple of defenders only to be foiled by a good save by Palace keeper Kleton Perntreou. It would not be the last time that Perntreou would deny the striker and, shortly afterwards, Healey could only head back to the keeper after he had made a mess of a punch from a Kennedy cross.
It was the turn of home keeper Luke O'Reilly to distinguish himself a few minutes later when he dived to turn aside a Connor Dymond effort, but Healey got his regular goal midway through the half – I'm still trying to work out how though! What was clear was that Kennedy had beaten his man and put over a low cross which seemed to have missed all of his team mates, but suddenly the ball was heading into the net via the slightest of touches off Healey – I think a clearance from a defender rebounded on to one of his team mates for what was going to be an own goal before it glanced off Healey, but, having only seen the incident once, I may well be wrong!
After that, the second quarter of the match resembled a basketball game with both teams taking it in turns to mount attacks which looked like they could produce a score. It would take me ages to catalogue all of them, but the period could best be summed up by Tutonda making a thrilling fifty yard break with the ball at speed before seeing his shot held by Perntreou, but then, within seconds, a slip by home centreback Rollin Meneyese giving Palace striker Freddie Ladapo a clear run in on goal before O'Reilly saved.
To return to that run by Tutonda briefly, the truth is that he should have done better with the opportunity because, although it was a great run by him, three of his team mates were quick enough to keep up with him and we had a four on two chance. I know we are not comparing like for like here, but it was noticeable how much quicker the Under 21s were on the counter attack then their first team counterparts on a few occasions.
In the event, this period of attacking to and fro produced a goal for each team. Palace's was a beauty as Jacob Berkeley-Agyepong stepped away from Robbie Patten and gave O'Reilly no chance as he rifled a tremendous effort into the roof of the net from the corner of the penalty area.
By comparison, City's second a few minutes later was a more mundane affair as Ben Turner nodded Kennedy's free kick on to Jamie Bird who headed into the corner of the net neatly from eight yards out. To be honest, Bird had been having one of those games where everything he tried was going wrong until then, but what I'm pretty sure was a first goal at this level settled him down and after that he was pretty effective against opposition he had scored a hat trick against at Under 18 level back in January.
A marvelous run from half way by Harris threatened to open up the Palace defence again as the half came to an end, but he was tripped before he could shoot and the referee had no alternative but to point to the spot. Unfortunately, Healey's penalty was a poor one which meant that all Perntreou needed to do to save was guess rightly which way to dive – this he duly did and so City went in with a lead which was about right on the balance of play (3-1 would have flattered them).
The second half had a lot to live up to, but the fact that it didn't do so had something to do with City's defending improving as Palace found it more difficult to create the same sort of chances as in the first period. O'Reilly did make one or two more good saves, but Perntreou had to make more – one from a long range effort by Healey after he had combined well with sub Eli Phipps springs to mind.
The keeper was helpless midway through the half though when Kennedy dribbled down the left and pulled a cross back to around the penalty spot where Harris finished emphatically with a low right foot shot.
It was to be the scorer's last contribution as he left the field before the game restarted after a man of the match performance. There are times during a long season when a player's level of performance dips and rises for no apparent reason and I suppose one of the traits of good management is to recognise when this happens and act accordingly – based on what I saw on Saturday and again last night, Kadeem Harris should be on the bench, at least, this Saturday even if some of our injured players are available again.
So, another season ends at Under 21 level and I'd say this has been one of the more enjoyable ones despite it's somewhat disappointing outcome. I usually nominate a Player of the Season at this stage, but the fact that, with loans and injuries (for example, Robbie Patten was absent for a great chunk of the campaign with a back problem), it's hard to find many candidates who have played enough times to merit such a nomination.
I can think of three that do, Dylan Rees, Macauley Southam, who came on as a second half sub last night, and Jamie Veale (who was not in the squad yesterday) – all of them have done well at a level they'd had little experience of before this season and it's no slight at all on the first two named, that I just come down in favour of Jamie Veale who has captained the team on numerous occasions in the second half of the season.
*pictures courtesy of https://www.flickr.com/photos/25150706@N02/with/26552850802/