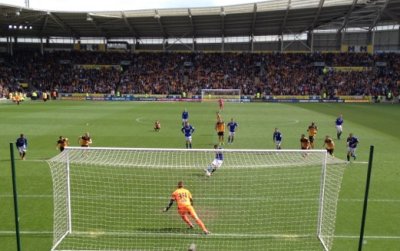 Ultimately Hull's point was academic as Watford lost at home to Leeds but from kick off at 12:45pm until the final confirmation came through from Vicarage Rd then Hull's fans were put through the wringer.
A goalless first half coupled with a 1 - 1 scoreline from Watford meant Hull held the advantage but when Fraizer Campbell scored within minutes of coming on as a sub at the start of the second half the advantage swung to Watford.
But Hull capitalised on poor Cardiff defending to score twice inside 7 minutes and they were on course for promotion again. Any win for Hull guaranteed promotion.
And in the 90th minute, after Ben Nugent's push, Hull were awarded a penalty. Their fans ran onto the pitch and when they were cleared off Hull had a spot kick to secure victory and promotion.
But they never accounted for David Marshall's stunning penalty save and while they were still on the verge of victory City went straight down the other end and won a penalty of their own.
It was an ending no scriptwriter could have dreamed up as Nicky Maynard (pictured), on the pitch a few minutes earlier for his first apearance since an horriffic injury last September, stepped up to score his first City goal and to send the Hull fans into emotional wrecks.
With 15 mins of the Watford game still to play (after a lengthy delay due to injury to the Watford keeper) Watford fans knew that a goal would see them promoted at Hull's expense. The pitch at the KC was full of Hull supporters nervously waiting for news from Watford and then there was an explosion of noise as word came through that Cardiff old boy Ross McCormack has scored for Leeds. Hull were on their way to the Premier League as Watford then needed two goals. It ended 2 - 1 to Leeds and Hull and Cardiff fans celebrated in unison.
Quite an amazing day of drama, tension and wild celebrations. As a Cardiff fans already promoted it was still impossible not to be caught up in the most incredible pieces of footballing theatre.
So Watford go into the play offs and will face Leicester. The Foxes sneaked in with a last minute winning goal against Nottingham Forest. Bolton, who were 6th at start of play, miss out after only drawing at home with Blackpool.
Brighton v Palace is the other play off tie.
At the bottom Wolves and Peterborough were relegated with Bristol City.