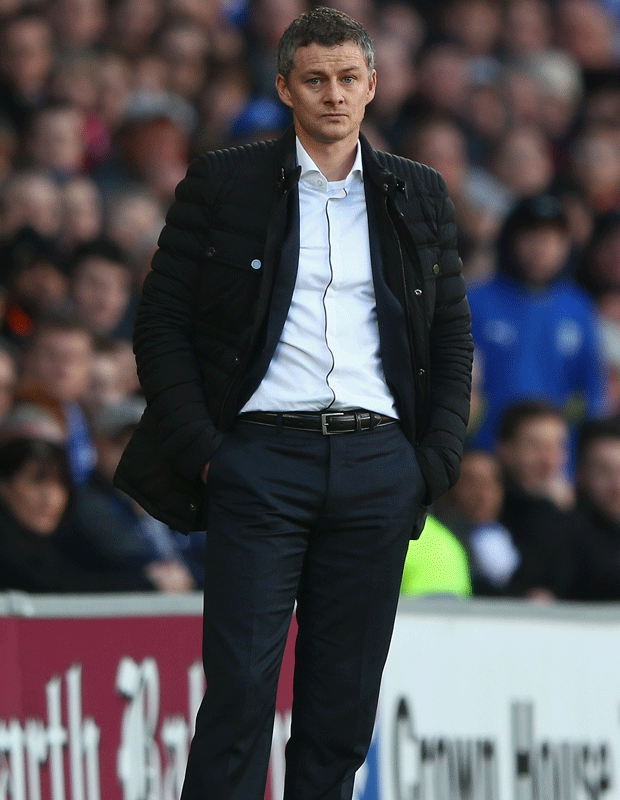 The Bluebirds head into the Barclays Premier League encounter at the Cardiff City Stadium in desperate need of points having won just one of their last 12 league games.
Last weekend's 1-0 defeat at Tottenham was their fourth straight loss and left Cardiff just one point and one place off Fulham, who lie at the foot of the standings.
Cardiff are three points adrift of 17th-placed West Brom, who hold the last position of safety.
"It's the biggest game for us," Solskjaer said to www.cardiffcityfc.co.uk.
"Obviously, this game is massive

You just want your players to go out there, play and express themselves with no fear."
Solskjaer expects a battle against a Fulham side that have failed to win since beating West Ham on January 1.
"At this stage of the campaign, you look at the form and confidence and I don't think any of these two teams can say we are in top shape," he said.
"I don't think either side would be happy with a draw

There will be two teams that have to go out there and try to win the game

I think you will see some positive football from both sides.
"But we are at home

We've played some good games at home lately even though the Hull game (a 4-0 loss) was disappointing


"But we have dominated some games here and we should have scored two or three goals.
"Hopefully, this time we will get the rewards for all the work we have done."
Cardiff possess the least prolific attack in the division alongside Crystal Palace, with 19 goals scored in 28 games.
Moreover, the Bluebirds have failed to find the back of the net in their last four league games.
"You need goals to take points," Solksjaer said.
"We need to score goals

To get a win, you need to perform.
"You have to earn the right to win a game by doing the hard work and you have to get the quality there, especially going forward.
"Against Spurs we had so many one-on-one chances against the 'keeper, four times at least we should have been through.
"It's that little bit of extra quality that will get us some points."
Fortunately for Cardiff, Fulham have the leakiest back line in the Premier League with 62 goals given away.
Jordon Mutch is expected to start for the Bluebirds after he shook off a hamstring problem and played as a substitute at Tottenham


Felix Magath believes there is greater pressure on Cardiff than his Fulham side as the Welshmen are at home


Magath has emphasised the importance of home games as he hopes to overturn the one-point deficit to Cardiff to improve the rock-bottom Cottagers' predicament in the Premier League.
Magath refused to describe Saturday's match as a "must win", instead suggesting Cardiff have more to lose if the result does not go their way.
"Cardiff is in the worst situation, because Cardiff have a home game and they have to win," Magath said.
"They are one point better than us

It's not enough for them to avoid relegation.
"They have to win, so it's a good situation for us

I'm convinced that will give us a chance, with counter-attacks, to create chances and to score.
"In our situation you have to especially take care of the home games.
"You have to win the home games, with support from the fans

If you go away it is very difficult to say you must win."
Magath recognises the boost his side would take from winning at Cardiff.
"It's very important for us to have the first win," he said.
"Teams who have not won so much in the last games need confidence

The best confidence you can get is if you win.
"Now we are behind the other teams

That is more difficult than to be in 17th place or 18th or 19th place, when you left teams behind you.
"We have all the teams above us

We need to make the first step, to get one place higher and that will give us confidence."
Magath admitted following last week's loss to Chelsea that his side's defending must improve if Fulham are to avoid relegation.
He is certain they will and has confidence his team can their build on their first-half defensive display against Chelsea.
He added: "We stopped defending last week in the second half.
"What a team can do for 45 minutes a team is able to do for 90 minutes.
"We have to make it for 90 minutes, not only till half-time."
Striker Kostas Mitroglou could feature despite concerns over his hamstrings and match fitness.
Midfielder Scott Parker (knee) is out and winger Damien Duff (knee) has likely played his last game of the season, and possibly for the Cottagers as he is out of contract this summer.
Defender Fernando Amorebieta is still out, while William Kvist is likely to miss out with hamstring problems, despite playing 90 minutes for Denmark at Wembley on Wednesday night.
Source : PA
Source: PA