Therefore, this isn't the time for any gloating, but, after thirty two years of virtually uninterrupted wurzels dominance in the Severnside derby, it's amazing to see how the roles have changed in recent meetings.
Between Ken Wimshurt's match winning own goal (what with Bradley Orr last night and Jamie McCombe in August, the wurzels don't mind giving us a bit of help towards winning!) in April 1971 and Peter Thorne's Play off winner in May 2003 the sides met twenty five times - we won one of them, drew five and lost the other nineteen with even the one victory, by 1-0, coming in the First Leg of a League Cup tie which saw us stuffed 5-1 in the return game at Ashton Gate!
With three wins and a draw to show from the first four games played between the clubs after Sam Hammam arrived to transform our on field fortunes, it looked like it was normal service resumed for the wurzels. However, Thorne's header signalled the start of a fightback from City which has seen them make a dent, albeit a small one, in our woeful record over the past four decades against the team I still see as our biggest rivals - last night's win means that we are unbeaten in our last six matches against Bristol City and we have four wins and three draws to show from the last eight meetings between the sides.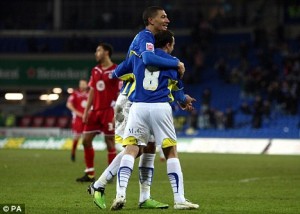 A glance at the record books will show that this isn't actually the case, but I have this memory of every game I saw at Ashton Gate in the 70s (off the top of my head I think there were four of them) had us losing 1-0 to an unlucky goal in the second half so I suppose I can relate to how the wurzels fans who were there last night might be feeling this morning.
Just as in some of those far off away games though, the close scoreline last night doesn't really do justice to the home team's domination - with a bit more luck and better finishing, the margin of victory could have been as big as it was in the league game in August. In saying that though, I thought that, after an even first hour that had seen the wurzels keep possession better than us without carrying our goal threat, both team's, understandable, desire not to have thirty minutes extra time worked very much in our favour as the two sides started to play as if they were a goal behind.
In those last thirty minutes there was more space for a quick striker to utilise by running in behind the defences if they were given the right service and it so happened that, on the night, City had the player best equipped on the pitch to exploit those gaps in Peter Whittingham. With him playing further forward, Whittingham's long passing ability hasn't been seen that often this season, but I can remember a superb volleyed pass drilled into JayBothroyd's path for a goal against Coventry which had to be City's assist of last season - give him time and space and the targets to hit over a distance and Whittingham is well capable of doing it.
If the passing was a bit longer than Steve McPhail's that evening, there were definite parallels in the final stages last night and the game with Derby back in September as Whittingham played in Michael Chopra behind a defence playing a very high line. Unfortunately, Chopra was to show this time that, despite his goal last week, he still isn't the confident striker he was in the first couple of months of this campaign and it looks like those, like me, who predicted that once Chops got one, a stack more would soon follow may have been wrong. In saying that though, Chops was unlucky when his shot hit the post and it showed how well it had been hit when the ball rebounded so quickly that Bradley Orr, who was stood some six yards from goal, had no chance of avoiding it as he, inadvertently,scored the decisive goal.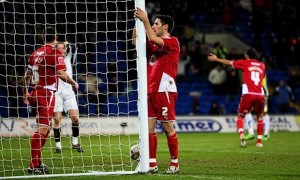 It shouldn't be forgotten either that Chopra was yet another of our squad who has fallen victim to the virus that has afflicted them over the past fortnight or so. I am sure the plan was to give him a rest for at least an hour, but the injury to Aaron Wildig threw that out of the window and, so some allowance has to be made for our striker's profligacy in front of goal.
Even without the virus, City are having a tough time of it with injuries lately and I think mention should be made of some of the more unheralded players who stepped in and did a good job last night. For me, Gabor Gyepes looked more like the player he was for most of last season as he made some important blocks and clearances throughout, Paul Quinn played a part in the goal with some good defensive work as last man which eventually saw him pass to Whittingham to create Chopra's chance and Darcy Blake showed when he came on that, although Dave Jones seems very reluctant to use him, he can be a valuable squad member at a time when we are so low on numbers.
In saying that though, I thought every one in the side played their part in a deserved win in which the quality may not have been spectacular but the attitude was spot on. For me, credit has to be given to the team, and Dave Jones, for the way they have responded to both the Peterborough debacle and all the off field bad news that has surfaced since the turn of the year - speaking as someone who has questioned the character of this group of players on more than one occasion, they have shown plenty of bottle in the past four matches which, for all sorts of reasons, have been played in very taxing circumstances.

http://mauveandyellowarmy.net/