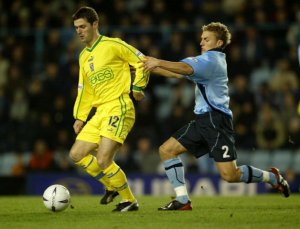 Boland holds off Pead of Coventry
Forget the scoreline, it flatters Coventry. Two breakaway goals and a deflection. Cardiff City hit the woodwork twice and dominated possession and chances.
The only difference tonight was in finishing, not anything else.
City have nothing to be ashamed of. The Sky commentators praised the Bluebirds from start to finish. They could not believe a team with so much possession and effort could lose 3 - 0.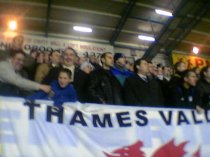 For my money Zorro, better known as Mo Konjic, was awesome in the Coventry defence. He was my man of the match.
Cardiff must transfer this energy into the league. Cheltenham look out, if City can produce the same effort at Ninian Park this Saturday then three points are there for the taking.
Earnie hit the bar in the first half, Thorne in the second half.
Cardiff, out scored but not outclassed.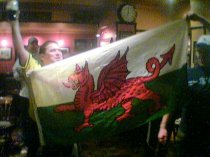 NigelBlues before the game
A classic cup tie that City deserved something
Well done Coventry, three goals, two superb finishes and a lucky deflection.
One last point. I think only Cardiff fans went to the game. Non stop singing from the Welsh lads who were heard loud and proud on live television.
Back to league action now. Good luck to the SkyBlues at Rochdale.