Match pictures:
http://www.flickr.com/photos/84241220@N07/show/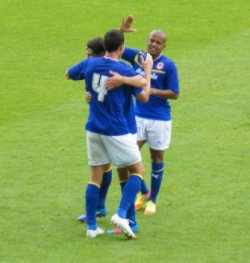 OK, Cheltenham were blown away in a twenty minute spell, but Oxford were a tougher nut, and while the U's didn't really trouble us in the first half, they did pressure us in the last twenty and we were grateful to some excellent keeping from Elliott Parish to keep our lead.

In saying we weren't troubled, neither did we really trouble Oxford, but as I said, we did enough. Even though we we have made a 'raft' (remember that buzz word when we signed Bellamy two seasons back?) of signings, with injuries, we certainly need a bigger squad, and if yesterdays team was to be the foundation of our campaign, I'm sure we'd be a mid table outfit. No Kim, McPhail, Mason, Gunnar, Harris, Mutch or Gestede. I was begining to think we were going overboard on Strikers, but if we do decide to go for Smith, and the rumours of a Bothroyd enquiry are true, then coupled with the potential arrival of Bellamy only then would I be happy with our striking potential for the season.

Of the new guys, Etien again showed intelligence in his running and willingness to put defenders under pressure. He is not a lightweight, but just needs to get used to the more physical side of the British game. Nice touches, and at least he is getting into scoring positions. Didn't do a lot, but flicked a sharp effort into the keepers mid-rift in the first half, and set up the second goal by forcing a good save from the keeper which Kiss nipped in to smash home the rebound. Hard worker which is nice to see.

Helguson held the ball up well and his build belies the fact that he appears as strong as an ox. Won a number of headers and was a menace. Went off at half time. Flashed a header wide from a corner. A sound start if not spectacular. We played a 442 with Etien & Helguson paired up top. You could see they need to build up an understanding, and only after the season starts will be know if this will click, but there is certainly potential. How long will it be though until crowds get on their backs because they are not scoring regularly?

Anyway, back to the game. Oxford looked enthusiastic and full of running. Marshall was called on to make a flying save from a twenty yard effort, and from a poor kick out by Marshall, the Oxford striker put a shot wide of goal albeit from 35 yards,but with the goal at his mercy. The home team were getting slightly more joy running directly at the centr back pairing, rather than out wide where Andrew Taylor & Kevin McNaughton were comfortable. We are still prone to stupid errors, giving the ball away in dangerous positions when under no pressure, and a lot of the dangerous moments were of our own doing.

After twenty minutes or so, we started to get a passing game together and we kept possession well. Patient build ups, probing for openings which slowly seem to take the wind out of Oxfords sails and we started to get on top from a possession point of view if not through the amount of chances we were creating. We were now comfortable and in a rythmn. Heguson flashed a header wide from a corner, before Whitts smashed home a great free kick from 25 yards (see video below). Better than his Cheltenham effort, curling in to the keepers top left in just about the only place he could not reach it. Oxford struggled to keep up, and we finished the half on top.

Changes at half time included Ralls, Earnie & Blake. I do love Super Kev, but you wonder if his chances of a regular first team spot this year might be over. Defensively he was great, going forward and the final ball do seem to have deserted him, and I now see Blake or a new signing as a better first option. Earnie was full of running again, and his cross saw Etien force their keeper into a good parried save twelve yards out before Kiss thundered the ball into the roof of the net from ten yards for the second. City remained on top until the substitutions who were all introduced in a ten minute spell with about 25 minutes to go.

Oxford got a goal back with a close range shot from Potter after our defence had plenty of opportunities and time to clear. This is a major worry and will need addressing before the opener against Huddersfield. Oxford then started to dictate play, and, with our kids on, it was clear our midfield was not taking a grip and the service to the front two was now near non existent. We played tidy nice football but with no aggression or impetus. As is often the case with youngsters (Ralls apart) the opportunity to play the easy ball and stay out of trouble invites pressure and it was only some heroics from Parish that defied Wharton an embarrassing own goal, and two further saves saw us through the game. We were now punchless but tidy. Oxford could have equalised with the last kick with a free kick which hit the post, but it was another City victory.

It was clear that fitness is still the primary aim in pre-season, although for those who travelled sometimes a little more excitement wouldn't go amiss!

One thing I would mention is that this year there is a willingness to work even hard to get the ball back when we lose possession and this was evident from the strikers working back through to the keeper. Conway seems out to keep his place for the starter against Huddersfield. He seemed to drift into Centre Mid regularly and took the ball really deep,a la Whitts style. He is certainly seeing a lot more of the ball. Kiss has had plenty of air time and has played well in all pre-season games. Even given for our new names and potential new names I have a feeling these two will play a prominent role this year.