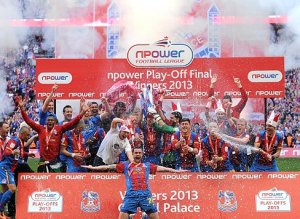 Palace, with former Bluebird Danny Gabbidon playing 120 mins, beat Watford 1 - 0 after extra time.
The winning goal came from a Kevin Phillips penalty (a penalty for Palace? who'd have thought it), in the 105th minute after Zaha was tripped in the box.
I think Palace deserved the win on the day after Watford just didn't put in a performance their fans deserved.
So congratulations to Palace and commiserations to Watford.
Can you believe that's Ian Holloway's 3rd Champiomship play off final in the last four seasons. Two of which he's won. Some achievement.
So that's the last Championship round up from me for a while. Next time we preview or review the weekend's fixtures thay will be Premier League ones.