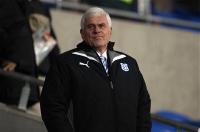 Mr Ridsdale, currently chairman of Preston North End, was banned following an Insolvency Service investigation.
The inquiry found that the 60-year-old channelled payments from football clubs into his personal bank account instead of a company account.
The company, a sports consultancy, collapsed owing £442,353 in tax.
The finding does not relate to his footballing duties as chairman of various clubs.
Future in football
The decision calls into question Mr Ridsdale's future at Preston North End, who play in League One in England.
The ban prevents him from acting as a director, but also in taking part - directly or indirectly - in the promotion, formation or management of a company.
"It is up to Mr Ridsdale or the club to decide what his work is and whether or not he is involved in the management or control of the club. We do not know what his terms and conditions are," said a spokesman for the Insolvency Service.
A spokesman for Preston North End said: "We are aware of it [the finding] but cannot say anything at the moment."
Mr Ridsdale has previously been chairman of Leeds United, Barnsley and Cardiff City football clubs.
Tax bill
Mr Ridsdale, of Carnforth in Lancashire, will now be banned from acting as a company director from 19 October to 18 April 2016.
The ban relates to his actions while director of WH Sports Group Limited (WHSG), which provided sports and leisure consultancy services to football clubs from 2003.
The company went into liquidation in April 2009, owing £478,698 - the vast majority of which was owed in tax to HM Revenue and Customs.
Mr Ridsdale did not dispute findings that:
Payments totalling £347,000, for services provided by the business to a football club where he was chairman, were paid into his personal bank account between May 2007 and March 2009 instead of to the company's account
He did not disclose the relevant transactions to the liquidator of the company who was subsequently told of them by the football club
He failed to ensure tax payments were made by the company. Unpaid tax at the time of liquidation included £166,421 in corporation tax, £102,279 in income tax and national insurance, and £173,653 in VAT
He failed to make sure the business filed accounts on three successive occasions
"As someone who has had many directorships, Mr Ridsdale ought to be aware of the responsibilities that come with such a position," said Claire Entwistle, director of company investigations north at the Insolvency Service.
Mr Ridsdale's wife - Sophie Victoria Ridsdale, 45 - who was co-director of the company, has also been disqualified. She will be banned from taking any directorships from 19 October to April 2016.
"These disqualifications should serve as a reminder that the Insolvency Service will investigate unacceptable conduct and deal robustly with directors who harm creditors by using unacceptable financial practice," Claire Entwistle added.
Report from BBC News - http://www.bbc.co.uk/news/business-19819177