It doesn't matter what decade or division it's in, Cardiff City definitely have a "thing" about London Road, Peterborough (I refuse to call any ground by the corporate name it carries for three or four years before switching to some other bland, history denying, title). They never seem to play well there and their results at the ground reflect that.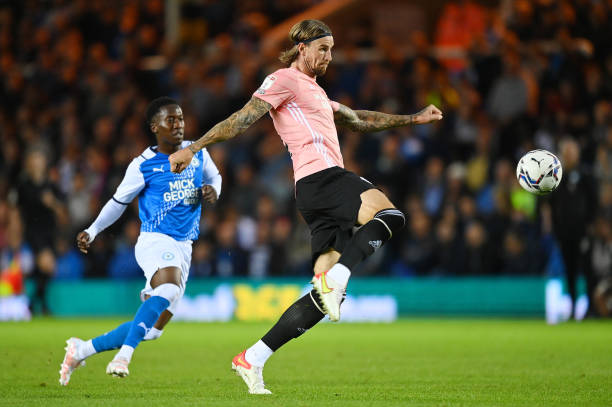 If you take away the grounds of the Premier League big six, I bet our record at London Road is as bad as it is anywhere -in fact, on further thought, our record at those clubs that wanted to be in the ESL this season may well be better.
I posted on a messageboard this week that Paul Wheeler is unique among Cardiff City players because he has scored a winning goal for us at Peterborough (it was by 2-1 in 86/87I believe it was).
However, I think that after tonight, the player who will be thought of when conversation turns to trips to Peterborough in years to come will be Aden Flint after he scored twice late on to rescue a point for City in a scrappy and strange encounter in which we, largely, maintained our record of playing poorly on this ground. Our recovery was down more to sheer will power, plus a degree of tiredness on the home side's part I'd say than any great quality on our part – kudos to Marlon Pack for the quality of his crosses for both goals though.
Pack was lucky to still be on the pitch at this stage mind for a couple of reasons as his sheer accumulation of fouls to go alongside a booking for a so called foul when he was the man the offence was committed against meant he could well have been shown a red card by a ref who I'll come back to later.
Also, credit goes to Mick McCarthy for keeping the midfielder on when he must have been thinking that he'd better take Pack off before he was red carded, but overall, I thought we got a draw tonight despite Mick McCarthy, rather than because of him.
I'd like to think that I've been pretty fair over the last eight months to our manager and would say I've given him credit when it's due. Overall, I think he's done a pretty good job at City so far, but tonight I felt he got his selection wrong and took too long in bringing on his second and third substitutes because our lifting of performance level from truly dismal to no more than adequate coincided almost exactly with the moment that Mark Harris and Rubin Colwill were introduced.
Having now seen extended highlights of our match at Blackpool on Saturday, I can confirm we did play well, but tonight's evidence suggested that some of our players were not really up to a second intense game in three days physically and/or mentally and, consequently, a degree of squad rotation may not have gone amiss.
I'm not particularly criticising these players, but it seemed to me that, for different reasons, Perry Ng, Joel Bagan, Ryan Giles, Leandro Bacuna and James Collins did not match the level of their contributions at Blackpool and with what we are being told is a strong bench and fewer injuries about the place now, maybe one or two of them could have been given a rest tonight?
There was definitely a listlessness about us after a first twenty minutes that I thought we edged without ever really suggesting we were going to score. However, although it wasn't as immediate as a light being switched off, we grew more sloppy and lethargic as we started to do what we always do on our bad days – make football look a very difficult game to play.
The half time stats showed neither side having an effort on target with the home side coming closest when Harrison Burrows, a nineteen year old who looks a fine prospect on this evidence and his substitute appearance against Derby on Saturday, shot across the face of our goal and wide.
Our best moment of the half came when Flint nodded a great cross by Bagan just over, but the main talking point of a dull first period arrived in the forty fourth minute when the home side's Nathan Thompson miscontrolled the ball and lunged in on Pack with the City man penalized and cautioned for some reason after a melee ensued which then saw Flint given a yellow card as well by referee Thomas Bramall who was taking charge of just his second ever Championship game.
Mr Bramall favoured the home side throughout the first half in particular and then missed a shocking tackle on Keiffer Moore by home substitute Frankie Kent after the break – although it should be said that Sean Morrison was lucky when what could easily have been construed as a stamp on home striker Jonson Clarke-Harris went unpunished by an official who, to be frank, looked out of his depth.
It was as if City were still distracted by the Pack incident at the start of the second period. If we were poor in the minutes leading up to half time, we were doubly so in the minutes after it, as Peterborough scored two goals which showed their sharp and nippy attacking players in a good light and our defenders in a bad one.
First of all, Burrows and Sikiri Dembele exchanged passes and revealed some fancy footwork in the process as the former lashed his shot beyond a helpless Dillon Phillips from around twelve yards, but City's "after you Claude" defending as they stood back almost in admiration certainly helped them along the way.
Two minutes later, we were caught out by a sucker punch as Peterborough broke with devastating effect from one of our long throw ins and Dembele side footed past Phillips after being fed by Clarke-Harris. Again, however, we made it easy for them as Ng was beaten to a ball by the scorer that should have been his some thirty yards from the Peterborough goal.
Apart from a good save by Phillips to deny Burrows as we chased a late equaliser, that was about it as far as Peterborough were concerned as an attacking force, but there could be no denying they were worth their lead as time ticked on in the second half, especially after a bizarre miss by Pack who, having been put through by Bacuna's best piece of work of the night, sent home keeper Christie Pym the wrong way by "giving him the eyes" and then shot wide!
Moore was introduced for Ng around the hour mark and Morrison headed a Giles corner narrowly wide a few minutes later, but it was only when Harris and Colwill came on for Collins and Bacuna in the seventy seventh minute that a labouring City began to offer a hint of a suggestion that they could yet save the match.
Predictably, City looked to get crosses and long throws into the Peterborough penalty area and with Giles, who I thought was erratic tonight while still retaining his ability to occasionally come up with some really piercing crosses, finding his range, the home side were being tested more in defence that they had been at any other stage of the night.
It was Pack though who supplied the cross from the right for Flint to nod firmly in on the far post on eighty three minutes and with five minutes added on for extra time, there must have been around twenty more of them played into the Peterborough penalty area of varying quality before we got the equaliser from the last of them.
Dillon Phillips had come forward for what looked like one last chance from a Pack long throw, but when it was half cleared, the keeper just managed to play a pass out to Pack who, this time from the left, came up with the quality that the situation demanded and, once again, it was Flint who headed in at the far post.
There was barely time left to restart the match and so, on a ground where we have suffered so much late heartbreak, it was us who caused it this time. We turned in a typical Cardiff at Peterborough performance, but this time, we got a point we probably didn't deserve, but it really feels like a win because it's probably the closest we'll come to another one on this ground in the rest of my life!
One other thing to mention, the club confirmed last night that Marley Watkins is not going to be offered a contract when his current short term deal runs out, despite his two goals against Sutton. Apparently, City are looking instead to their youngsters coming through to provide the cover that Watkins might have. In particular, it looks like plans to send Mark Harris out on loan have been shelved and so they should be in my opinion, because the Welsh Under 21 international has a habit of making things happen when he comes off the bench and makes what can be a predictable attacking game from City a little different.
It's the time of year again when I ask readers of Mauve and Yellow Army to make a contribution towards its running costs. Before I go into detail about this, I should, once again, offer my sincere thanks to all of you who have helped ensure the future of the blog over the past three years through a mixture of monthly payments via Patreon, monthly Standing Orders into my bank account and once a year payments via bank transfer, PayPal, cheque and cash.
The first time I made this request for assistance, it was prompted by a need for funds to pay for three yearly web hosting costs which, frankly, I was in no position to meet following my move of house a few months earlier. However, I'm pleased to say that, this time around, the web hosting bill was settled back in June with none of the problems there were back in 2018.
Therefore, any monies received this year will go towards other running costs and, although it's too early yet to make any formal commitments despite so many of the pandemic restrictions in Wales being lifted recently, I am minded to do another review of a season from the past book to follow on from "Real Madrid and all that" which looked back on the 1970/71 campaign. At the moment 1975/76, the first promotion season I experienced, looks to be favourite for the book treatment, which would mean a lot more trips back and forth to Cardiff than my finances have become used to over the past year and a half – hopefully, the majority of them will not have to be made via Radyr Cheyne!
As always, the blog will still be free to read for anyone who chooses not to make a donation towards its running costs and, apart from the one in the top right hand corner which is to do with Google Ads, you will never have to bother about installing an ad blocker to read this site because there will never be any.
Finally, as mentioned earlier, donations can be made through Patreon, PayPal, by bank transfer, cheque, Standing Order/Direct Debit and cash, e-mail me at paul.evans8153@hotmail.com for further payment details.
http://mauveandyellowarmy.net/