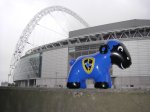 The Football league have announced the dates of the play off semi finals and final.
The Championship season ends on Saturday May 7th and less than a week later the play off semi finals kick off.
First legs:
Thursday 12 May / Friday 13 May

Second legs:
Monday 16 May / Tuesday 17 May
The final will be held at Wembley on Monday May 30th.
Hopefully this information will be of use to our promotion challengers. I really hope we don't have to go down that route again.