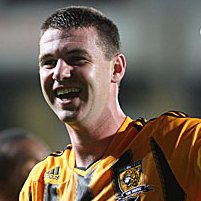 Cardiff didn't do so bad from the deal either with Seyi Olofinjana playing a major role for the Bluebirds this season.
And Olofinjana can keep playing for Cardiff as the Bluebirds' season continues into the play offs.
For Gerrard though he's back in Cardiff, back in training with City but unable to play.
Earlier this week he tweeted:
'I can't play in the play offs, so just trainin wid the lads'
Regular contributor Paul Evans had his say on the Gerrard loan, in relation to drinking City players at the end of this campaign.
'As I understand it, Anthony Gerrard had a bust up with Dave Jones after being left out of the Play Off Final, but it was when he reported back for pre season carrying too much weight that the decision was made to loan him out.

'Dave Jones has now confirmed that five players (two of whom were in the starting line up against Middlesbrough) defied his orders and went out drinking (albeit one of them, seemingly, didn't have any alcoholic drinks) until the early hours of the Saturday morning following the Player of the Year do.

'For me, both of these incidents amount to a serious breach of club discipline worthy of some sort of punishment, but, which one is the worse? In my opinion, it's got to be the decision of those five players to break the manager's curfew so close to what was, arguably, our most important match of the season up until then.
'There was six weeks or so for Gerrard to lose his excess weight before the league season started and yet he was, effectively, put on the scrap heap at Cardiff City for what he did - can the pissheads expect similar treatment?