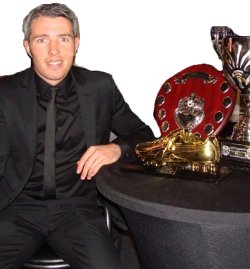 The event was attended by the City squad, Chairman TG, Manager Dave Jones and the back room staff.
After the meal Keith Cooper compered the awards which were awarded as follows:
www.cardiffcity-mad.co.uk Magic Moment was awarded to Craig Bellamy for his goal against Doncaster last August which topped off one of the most amazing weeks the club and the website had ever seen.
Craig also won the 1927 Club Goal of the Season for his winner against Swansea in February.
Chris Burke won the award prested by Wayne Crichton on behalf of the club for the person who picked up the most text Man of the match votes over the season.
Tom Heaton was named CCSC Young Player of the year and there was a belated award to Peter Whittingham who was Player of the year for the 2009 / 2010 season but there was no awards ceremony last year.
Kevin McNaughton won an award from the Supporters Trust and it was SuperKev who picked up the main award of the night beating Mark Hudson into second place.
More pictures here