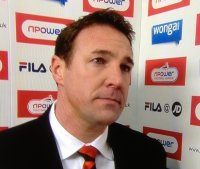 Malky Mackay: "There's plenty of games to go and a lot of points to get.
"You've just got to get your head down and grind the results out. I'm delighted with the boys, playing to the standard they did tonight.
"I'm just delighted we got the win. It's never been an easy place to come and I think that's four away wins in a row for us now too."
Meanwhile Blackpool's temp manager Steve Thompson said
"I'm in charge - temporary charge - for the moment and until I hear anything different I'll keep going along but I think it needs sorting, especially for the lads because they need stability around the club.
"The players hear all the speculation, it needs sorting out. There are lads out of contract, there's lads who need the contract sorting. I'd be lying if I said it wouldn't be unsettling for them. Until we hear different we've just got to make sure we get them right.
"I've said from day one that Karl Oyston will make the decision and hopefully the right decision for Blackpool Football Club.
"I want to be number one of course I do. I've always said I'm ready, I'm ready to be number one but whatever Karl decides to do I'll back him 100%, with whatever role I have at Blackpool.
"I've just been in temporary charge. We've not actually sat down and spoken. That's Karl's decision - that's why he's chairman."