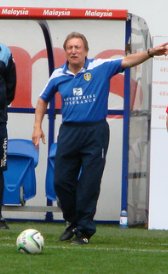 Leeds boss Neil Warnock had to have a little dig at Nicky Maynard, suggesting the City player went looking for his free kick that Bellamy scored from. It's obvious for all to see it was a blatant trip. Still it's always good to see Warnock floundering after being beaten.
"I thought we deserved a point. But to lose Ross McCormack after three minutes was hard, he's our only Bellamy" Warnock said.
"Ross has twisted his ankle quite severely. I don't think there is any break, but we can't tell yet because of the swelling. I'd imagine he'll be out for a few weeks.
"It was a fantastic goal by Bellamy, but we were very disappointed with the free-kick that was given. Maynard is good at it. Michael Tonge pulled out of the tackle and he's gone down. The referee has given the free-kick. We should have had the wall better and were naive."
Malky Mackay was happy to see his side earn back to back wins after changing the teams tactics at half time.
"Half-time changed the game. Leeds came and worked very hard, were compact and disciplined" Mackay said.
"They negated space in the wide areas and did their homework by watching our game against Wolves.
"We spoke at half-time, upped the tempo and attacked them in different areas in the second half. We had 19 chances at goal and Paddy Kenny made three or four magnificent saves. On another day we could have scored four or five.
"After half-time we looked a different team. It's early days in the division, but I'm delighted with the win."