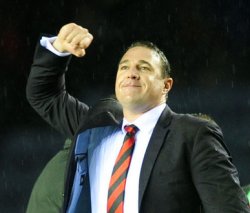 "This year we have a very similar sized squad to last year but there is more strength in depth and players go in and out on performance," said Mackay.
"It is about making sure you take your chances and grab it and Aron came in today and did that. He scored but also did exceptionally well in the second half.
"They are a great group with a lack of ego there and that makes them work hard for each other whether on the pitch, the bench or the squad."
"It took until the half an hour mark for us to really get into the game and get on the front foot. From then on in I thought we were excellent," added the Scotsman.
"They got the message at half-time when we had a chat. I asked them their thoughts on where they thought their level of performance could go and they got there.
"They know if they work hard and step on like we did in the second half then we have footballers who can open team up and it is about patience and doing the correct things and that is what they did."
And Ian Holloway said:
"We started well and ended terribly.
"I thought we stopped creating chances and in these games you can't do that and you have to keep going. It was as simple as that.
"You know with this crowd like it is Cardiff are going to come back and in the end I am bitterly disappointed in the last 15 minutes because if any side looked like they were going to score a goal it was Cardiff.
"After they scored I don't think my team did what they needed to do, in fact they did worse and not better.
"There was a lot about us that I was delighted with but I just didn't like the way we ended the game. We have got to look at that part of ourselves because that could be crucial come the end of the season."