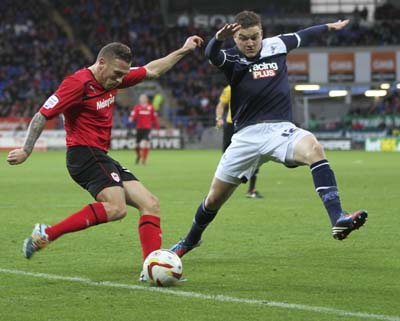 "We had a really high tempo in the first 25 minutes, got at them and scored the early goal, said Kerslake.
"But Millwall are a decent team who have only lost three of their last 18 games, so they were no pushover.
"We kept the ball and saw the game out really well in the second half.
"We knew we had a really tough month coming into the festive period, but we've applied ourselves the way the manager expects us to.
"We didn't have the strength of depth last year.
"Now we've got players like Heidar (Helguson) and Don (Cowie) coming off the bench.
"We couldn't do that a year ago. Certainly our squad is one of our big strengths now."
Millwall boss Kenny Jackett said: "It was a good performance and the positive was the amount of chances we created. You need to finish those off. But we didn't go down easy at all.
"We have to get over Chris (Wood) leaving. The people above me tried very hard to keep him. We are disappointed, but they could not do anymore in our remit.
"He had an opportunity to go to a club geared for the Premier League. Money was one of those things, but it wasn't solely that.
"I thanked him for his efforts and I wish him well."