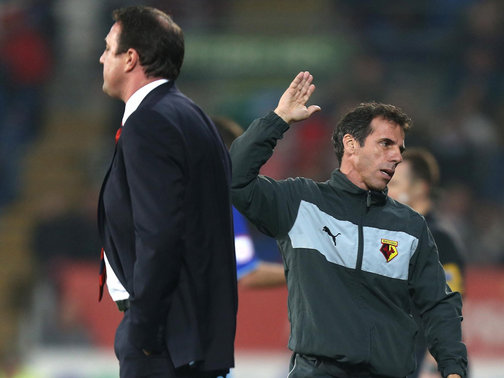 Mackay Mackay said after seeing his side grab a late winner against 9 men. A win that set a new record for consecutive home victories from the start of the season.
"I'm very proud of the boys who have gone and achieved that, but I'm even more proud that we got three points and are sitting top of the league.
"At the start of the season, I asked the supporters to come and back the team. The players have put their heart and soul into the home games and there has been a buzz around the crowd.
"We have a resilient and fit team who have belief in their ability. You can see the crowd getting right behind the team until the death - it was like a ground swell.
"They could see the goal coming and were our 12th man."
Watford boss Gianfranco Zola said: "It's very cruel, not just for me but for the players because of the way they played and performed.
"To see them come away with a defeat is hard to take. I feel sick for the players.
"At 11 versus 11 we were 1-0 up and in control. The balance of the game changed completely with the red cards."