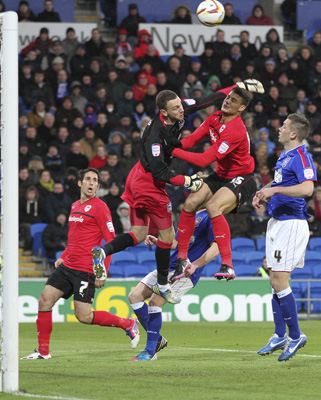 "We were playing against a team who are top of the form guide," Malky Mackay said of Ipswich's rise under new manager Mick McCarthy.
"It's not about looking at teams where they are in the league, it's about where they are in the form guide.
"The new manager has come in, he's brought new players in – and I think they've only lost two in 10.
"If we hadn't worked as hard as they did we would have been beaten today.
"On another day both teams could have won it, they had a couple of chances and we had a couple of chances.
"But the work of both teams negated a lot of chances, so for us to come out with another clean sheet – our fourth in five games – and to have now taken 13 points from 15, well, I'm delighted with our work."
Mackay claimed the Bluebirds had 20 attempts on goal but, in truth, Ipswich goalkeeper Scott Loach was rarely extended.
"You always hope that you create more chances but I think we had 20 attempts on their goal to 11," he said.
"Maybe we didn't have that clinical nature, but I have to say the conditions were pretty poor in terms of the wind and rain – and both teams struggled with that at times."
"We've had some good chances and played very well," said Mick McCarthy.
"We had to defend some good quality free-kicks and corners, but in open play we probably had the better of the chances.
"I thought Frank (Nouble) did great with that (chance at the end), he had such good feet, but it just went the wrong side of the post.
"We lost two games on the bounce – one a league game, one a cup game – and we didn't want to lose two league games on the bounce.
"I thought it was a fair result overall. I would have taken a point before hand and I'm happy with it now.
"We've just played the leaders who were 27 points ahead of us. I don't think that was reflected in the performance on the pitch – we played better than that."