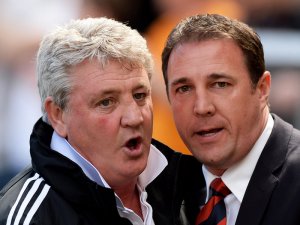 "There's no way I wanted to lose the game today and I don't think we deserved to lose the game today," said the Bluebirds boss.
"In Nicky Maynard, Fraizer Campbell and Rudy Gestede I've got three strikers on at the end trying to win the game.
"But I don't think Steve expects anything different. Steve didn't expect any favours from me today and didn't get any. You see his team fighting to the end."
Mackay added: "I thought the Brentford thing was crazy last week but a sending off, two penalties and a pitch invasion in the space of five minutes is certainly something I've never experienced before but, thankfully, we got the goal back which I think we thoroughly deserved.
"We got off the pitch and allowed Hull to have their day, because this is Hull's day. We got a point and got out of here but congratulations to Steve Bruce and Hull today."
Meanwhile Bruce was understandably delighted, although his claim that our penalty was not deserved is wrong.
"I've been in the game a long, long time and I don't think I've ever seen or witnessed anything quite like that," he said afterwards.
"The 10, 12 minutes was just ridiculous and having to wait.. We've seen people in tunnels, people walking in corridors, people hiding in toilets, it was just really incredible.
"And for Leeds to score, it was just remarkable and just shows you how difficult a league this is. To get up without any strikers for three months is just a remarkable testament to this squad."
"Even today, when we went 1-0 down I thought 'This is going to test them' and they've come out again and shown what a great bunch they are.
"They might not be as naturally talented but they're a great bunch and they've got a huge desire which has took us where we wanted to be."
Bruce added: "Overall we deserved it. The ref gave them an unbelievable decision to give Cardiff a penalty but it's our day. I would like to say well done to Watford who pushed us all the way.
"It took guts for us, they rolled their sleeves up and have put in a real shift.
"We had heard Watford were 2-0 up and they weren't - we could have put it to bed. How many chances have we had? We had a penalty and missed it. This is totally ridiculous.
"I have said for weeks there would be twists and turns. I have never experienced anything like the last 10 or 15 minutes."