I've not checked this, but this blog started just over eleven years ago and so I suspect the first time I said something like 1-0 away wins are the foundations upon which a successful season is built on here could have been eleven years ago to the day!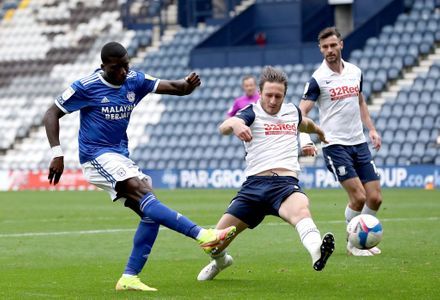 Like any sort of scoreline, there are a wide variety of types of performance that can bring about such an outcome. For example, four days ago, a late Jonny Williams goal made all the difference between being totally satisfied and heartened by the game and the position the Welsh side now finds itself in and total frustration at a third consecutive goalless match and an inability to see off clearly inferior opponents.
On the other hand, having Crystal Palace's match with Brighton on in the background as I type this takes my mind back forty four years to when we went to Selhurst Park to play in front of a big crowd in what was billed as a Third Division promotion shoot out and thrashed them 1-0 – we were so dominant that the only question worth asking after the game was how on earth there was just a single Adrian Alston goal separating the sides at the end.
https://mauveandyellowarmy.net/
City's 1-0 win at Deepdale against a Preston side that has now started its home season off with a trio of single goal defeats does not fall into either of the categories described above really given that Wales played pretty well in Bulgaria earlier this week – this was very much in the winning when some way from your best category.
Let's be clear though, no side is going to have much of a season if they can only win when at their best. Also, City deserve enormous credit for what is an excellent away record under Neil Harris.
In his first match in charge, at Charlton on November 23 last year, City produced a preview of what could be expected from Neil Harris Cardiff sides as, without an away win up to then in 19/20, they came back from 2-0 down to earn a 2-2 draw.
Since that day, City have played a further twenty one away games in all competitions and their record under this manager now reads, played 22, won 12, drawn 5 and lost 5. That's an incredible record which means that the comment on today's match commentary that no side in the Championship has taken more away points than Cardiff since Neil Harris' appointment does not come as a shock at all.
Clearly a record like that is bound to breed a certain frame of mind within a side and I'd say it was there in spades today in a one sided second half which, perhaps, gave an indication as to why City have been nowhere near as successful on their own pitch during Harris' reign up to now.
Another thing the Sky commentary team said was that Preston manager Alex Neil was of the opinion that it would be a game where the first goal would be vitally important. I agree wholeheartedly with that, because playing like we did in the second half, there is no way that we could have fashioned a goal if Preston had scored first.
I'll qualify that by saying a couple of things, first, we would always have the old faithful of set pieces to, hopefully, bale us out and, second, with Lee Tomlin absent through suspension after his red card at Blackburn, a recruit picked up on the last day of the transfer window, hopefully, means that we're no longer reliant on just the one man to provide a moment of magic out of nowhere.
While a little note of caution is needed because there have been plenty of supporters who have declared themselves delighted with their team's transfer dealings in the hours after the window has closed only to have changed that opinion completely within a week or two, it really does feel like City had a very good end to the summer window on Friday.
For a start, moving Aden Flint out on loan to Sheffield Wednesday was good business given that the towering centre half was quite clearly fourth choice centreback at the club currently. The talk throughout the previous fortnight or so had been about how City were looking to bring in two more new recruits, but, presumably, getting Flint's wages paid by another team freed up the funds to enable a trio of new signings on Friday.
The one that came as the biggest surprise on the day was the one permanent signing out of the three, Dillon Phillips, who was in goal for Charlton in Neil Harris' first match and kept a largely untroubled clean sheet in the return goalless draw in Cardiff soon after fixtures resumed following the lockdown.
I read plenty of good reviews about Phillips, who had been Charlton's first choice keeper for the past two or three seasons, last year and, with Alex Smithies not exactly old for a goalkeeper at thirty, but reaching an age where you need to start thinking of an eventual successor to him, the twenty five year old Phillips ticks the right boxes. I reckon he's a good signing, even if there was a fee involved for him – my first thought was that he would be a Bosman signing and I can't see any fee for him being that big if this was not the case.
The second signing was a replacement for Flint in twenty three year old Filip Benkovic who has come in on a season's loan from Leicester. Benkovic cost the Foxes £18 million when they signed him from Dinamo Zagreb in 2018 and, since then, he has been out on loan to Celtic, where he did well apparently, and Bristol City.
I can't really say anything about how good or bad Benkovic, who has won a single cap for Croatia, is as the only time I can remember seeing him play was when he came on as a late sub for the wurzels in our recent win at Ashton Gate and played up front as they chased an equaliser in what was another 1-0 away win. Mind you, the fact he was used as a makeshift striker and that he scored twice in ten appearances for Bristol does suggests he might be as effective in opposing penalty areas as Flint has been for us.
The final signing I'd say qualifies as something as a coup for City with Harry Wilson coming in for the season from Liverpool for what the local media is saying is a lot less than the £1.2 million loan fee and £60k a week wages originally reported in the national press.
Wilson, who had been expected to sign for Burnley before the closure of the first transfer window was then favoured to go to the jacks when that transfer failed to materialize. However, when they dropped out of the running and his former club Derby also ruled themselves out, City were probably favourites to get him on Thursday night and it soon became clear that the twenty three year old was coming here on Friday – indeed, it is now being reported that once a move to the Premier League didn't come about, Wilson's first choice was always Cardiff because of the Welsh element involved whereby strong showings with us would increase his chances of, first, getting into the squad or the Euros and, second, into Ryan Giggs' starting eleven.
So, in Wilson, you'd like to think we now have someone else who can supply those magic moments which bring goals when one is least expected – although he wasn't that popular with Bournemouth fans apparently, seven goals in a side that got relegated strikes me as perfectly reasonable and his record in the Championship when on loan at Hull and Derby speaks for itself.
Hardly surprisingly, all three newcomers were on the bench today, but, Wilson did not have to wait long for his introduction as the unlucky Greg Cunningham, deputising for the injured Joe Bennett, limped off with what Neil Harris described as a hamstring issue around the half an hour mark.
Leandro Bacuna became a makeshift, and not altogether convincing, left back as Joe Ralls dropped back alongside Marlon Pack and Wilson filled the number ten role, but, not surprisingly I suppose given he'd only been with his new team mates for a couple of days, they struggled to get Wilson into the game.
As I say, this may be something that will sort itself out in time, but I've seen enough matches where our serially bad passing has meant Tomlin has been a virtual spectator to wonder if we have the craft behind what now looks like improved attacking options to bring the best out of them.
Save for one devastating exception, we offered little to suggest we can fully utilize Keiffer Moore's aerial and technical ability and the flair of Wilson, Tomlin etc.
Pack made an impressive start to the game and was the most influential midfielder on the pitch for the first half, but he and Ralls became virtual defenders after the break, albeit very hard working and conscientious ones. However, like too many others in the City team, they seem so surprised to actually be in possession of the ball in the second half that they immediately presented it back to the opposition.
A classic case of this came when Ralls was left clear down the left after his marker Ben Pearson pulled up with what looked like cramp, but, in plenty of space, the City man produced a wretched cross which sailed way over the heads of the three or four team mates who had burst forward in support. Ralls is a lot better than that and can pass the ball well, but, still we suffer in comparison to almost every team we play when it comes to this part of the game.
It was strange watching us after we'd scored our excellent goal – on the one hand, I was getting frustrated by our inability to retain possession because of our careless passing and technique. This frustration had a lot to do with the contrast between what we were doing for about ninety five per cent of the time and the simplicity and ruthlessness of our goal as we broke away after dealing with a long throw into our penalty.
Ralls won a brave header to find Moore and the six foot five striker who, so unusually for someone of his size can look almost graceful in possession, broke clear to carry the ball some twenty five yards into Preston territory.
All of a sudden, there were four City attackers converging on two home defenders. Wilson, tearing up to Moore's left looked to be the pass for the big striker, but, instead, he went right to Sheyi Ojo who took the ball wide of the last defender and smashed an angled right foot shot past Declan Rudd.
Looking back now, Ojo's effort and a Moore header over from a first half cross by the impressive Jordi Osei-Tutu were the only times I thought we really threatened the Preston goal – we scored three times when winning at Deepdale in June, but that was never going to happen today.
Nevertheless, there was also something of a sense of calm to go with that frustration I mentioned earlier. There were three reasons for this, first, supporters and players must now share a common confidence that we can hold on to a lead in an away game – after all, we've done it so often recently. Second, despite the fact that our inability to keep the ball meant that it was coming back at us so often, we did defend very well, with Man of the match Sean Morrison a colossus at centreback. Curtis Nelson was very good as well alongside him and Osei-Tutu is looking a quality signing at right back.
Even when the last named went off late on with what Neil Harris said was a tight hamstring which, hopefully, will not cause him to miss the Bournemouth match on Wednesday (right back is a position where we really cannot afford an injury!), Nelson was solid out on the flank as a replacement when Sol Bamba came on to play alongside Morrison.
The third reason for my confidence was that Preston looked nothing like a team that had scored four in the second half at Brentford of all places in their previous match, but very like an outfit that had lost their previous two home games without scoring – Smithies got into trouble when he came for a cross in the dying minutes and missed it, but, apart from that it was an easy afternoon for the keeper. Substitute Jayden Stockley's late header too close to Smithies was probably the best chance the home side had in what was a match low on goalmouth incident.
I did wonder if I was being a bit harsh on City by focusing on their poor second half passing, but Morrison saying that we had been sloppy at times in his post match interview was reassuring – the challenge now is two home games in a week as we attempt to bring some of the consistency we're seeing on the road to Cardiff City Stadium.
Unfortunately, the situation with Covid means that I'm unable to get to watch games at the levels below the first team unless they are shown on the club's website (a lot of the under 23 side's home games have been in the last year or so). Therefore, the coverage I can give to the Development and Under 18 sides is less than in previous seasons.
So far, my use of the word "unfortunately" to start the previous paragraph should, perhaps, read "fortunately", because results for both sides have been pretty terrible – the Development side will be looking for their first points of the season on Tuesday when they travel to Sheffield United after losing their first three games and the Under 18s 5-2 loss to Sheffield United at Treforest yesterday means that have now lost three on the trot following a win over the wurzels in their opening game.
Can I also give a mention to my new book Real Madrid and all that which has been bought out to commemorate the fiftieth anniversary on 10 March next year of Cardiff City's win over the team which can be judged as the best in Europe based on their record in continent wide club tournaments since they were introduced in the 1950s. The book is more than that though, it's a review of the whole of the momentous 1970/71 season which saw us fighting for promotion to the old First division, reaching two Cup Finals and scoring the best goal I've seen us scoring in nearly sixty years of supporting the club – it also contained the most controversial transfer of my Cardiff City supporting life.
Real Madrid and all that is available in e book and paperback formats and can only be purchased from Amazon.