Steve Morison marked his first game since he was confirmed as Cardiff City manager until the end of the season by making it seven points, and two successive victories, out of a possible twelve with a 2-1 win at Preston this afternoon. That might not sound an awful lot to write home about, but it should never be forgotten that this comes on the back of a club record run of eight consecutive losses – just compare how you feel tonight about your team compared to how bleak everything looked when we were losing to Middlesbrough in Mick McCarthy's last match in charge.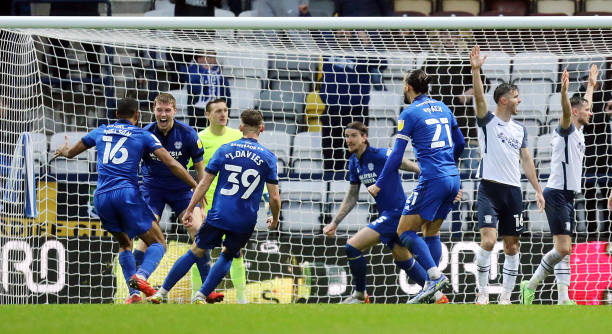 It's also impressive that the two wins under Morison have come after we conceded the first goal – in fact, our last three victories have all seen us go in at half time a goal down and end up 2-1 winners.
City have only won two other league games this season – obviously, we scored first in our 2-0 win at Blackpool in what is still the only game we've kept a clean sheet in all season and we also went 1-0 up in the match with Millwall which we eventually won 3-1. Apart from that pair of matches, the only other one in which we scored first was the opening day 1-1 draw with Barnsley, so that's three out of eighteen league matches (and three out of twenty if you include our two cup games) where we've scored the first goal – all things considered, we've done well to get to eighteen points with such an appalling record as that.
So, why do we find it so hard to get our noses in front and win games in a manner which you would have thought was a lot easier than the way we've gained the majority of our victories this season?
Well, there's a blindingly obvious contributory factor – every time we concede a first half goal, we are going at least 1-0 down!
I remember Lennie Lawrence always used to talk about the importance of scoring the first goal when he was our manager. I can't remember the figures now, but he quoted some stat about how even if the opposition equalised, the team scoring first we're still the more likely to go on win the match.
I've no reason to believe that things have been turned completely on their head since Lennie Lawrence's day, so, again, you get evidence of how hard City are making it for themselves because of their inability to score in the first half and that we're doing well not to be even lower in the table than we are considering this self imposed handicap.
I no longer think in terms of us scoring in the first half, it's become a question of hoping that we've kept it at 0-0 or our deficit is within manageable proportions. Today, we had a header from Aden Flint that never really threatened the goal and a couple of half hearted shouts for a penalty in the opening forty five minutes during which it seemed to me that we were on the way to one those 3-0 or more type defeats we've suffered too many times down the years at Deepdale.
Before going on to talk about the game in any great detail though, I'd like to discuss Steve Morison's team selection, because, if anything said that things are changing drastically at the club this season it was the front three which started today.
Back in August, anyone who said that we'd be starting a game with Isaak Davies, Rubin Colwill and Chanka Zimba up front before November was out would have been dismissed as an idiot. Needless to say, it was a tremendous show of faith in the first two I named especially to give them both their first starts for the club when Morison could name a fit again James Collins as well as Mark Harris on the bench.
Of course, things would have been different if Wales' goal scorer from midweek, the in form again Keiffer Moore had not been ruled out by what apparently is a minor injury sustained against Belgium and a further blow came with the news that Joe Ralls was ill (not Covid related though). So, Will Vaulks came in to partner Marlon Pack, who took over the captaincy, in midfield (incidentally, here's a quiz question which I think is probably impossible to answer, but I'd love it if someone could prove me wrong – when is the last time City have had four different captains in five games? I make it that we had Flint against Middlesbrough, Sean Morrison against Stoke and QPR, Ralls against Huddersfield and now Pack today).
With Moore having scored four times in his last four games and Ralls probably established as City's most reliable experienced central midfielder, their absences were bound to be keenly felt against opponents who had not lost at home since the opening day of the season and had inflicted Bournemouth's only league defeat of the season in their penultimate match before the international break.
Any hope City had of doubling their number of clean sheets were thwarted within something like one hundred and twenty seconds and I'm not joking when I say the goal had been coming! Preston tore into us from the start of the game and had a couple of chances to score within the first minute as the ball was scrambled behind for a corner, within seconds they had a second one and when Curtis Nelson, Zimba and Pack all went for the same ball from this corner, it was the latter who diverted it towards the far post where Sean Maguire had a simple task to guide in his first goal since last December from about five yards out.
Looking back now, Preston didn't really fashion too many chances during the rest of the first half despite the fact that they looked to be comfortably in control against a City side having trouble with getting the ball under control on a pitch that was livened up by the steady rain which fell throughout the game.
With their midfield pair anonymous, Colwill barely touching the ball, Perry Ng having a torrid opening which eventually saw him earn a booking and Mark McGuinness also struggling at times, City had no real base to build on and with the whole occasion looking a little too much for Zimba, the ball was not sticking up front.
At least Alex Smithies was able to demonstrate his improved recent form by holding on to efforts by Hughes and Riis that were made a bit more awkward by the conditions, but his best save came when he dived to beat out Ali McCann's fiercely struck effort from the edge of the penalty area.
City only had that Flint effort and those claims by Zimba for a penalty to cling to as they went in at the break probably deserving to be two, rather than one, down – although they may have been heartened slightly by Colwill becoming a bit more of an influence as he was switched infield to play in more of a number ten role by Morison. .
It was no real surprise that Collins came on for Zimba (hopefully, the youngster will get further chances to prove himself) at half time and the Republic of Ireland international was to have his best forty five minutes yet in a City shirt as he played a prominent part in what was a totally transformed performance by the team to the extent that I don't think Preston could have any complaints about the outcome despite their dominance of that opening forty five minutes..
No one epitomised the difference in City's second half showing more than Vaulks though as his laboured opening forty five minutes made way for a far more dynamic offering which saw him rifle a shot against the inside of a post from the corner of the penalty area as City began the half in much the same way as the home side had started the first.
It didn't take Vaulks too long to play a part in our equaliser though as his free kick was nodded in at the far post by McGuinness for his first goal for the club as he brushed aside a half hearted challenge from his marker to net from six yards.
McGuinness' goal came in the fifty first minute and his team were in front fifteen minutes later when Collins glanced Ryan Giles' corner in at the near post. Like McGuinness, this was Collins' first goal for the club and with both of them coming from set pieces, like Moore's first against Huddersfield, there's been something old school Cardiff about our scoring in our last two matches where all four of our goals have come from headers.
However, rather as at Stoke, City were able to demonstrate a speed and counter attacking ability which made them a threat when they went forward while keeping the ball on the floor. This was well illustrated in between our goals when Davies led a a quick raid where he elected to shoot himself rather than use one of the three blue shirts that were breaking forward with him and dragged his shot about two yards wide.
Granted, the evidence is still limited, but I'd say the influx of younger players has had a consequence that wouldn't have been as apparent with a team full of senior ones in that we've caused three man defences a lot of problems in our last two away games through our ability to attack in a way which you would not associate with pre Morison Cardiff sides.
Colwill is at the heart of much of this and is fast becoming one of very few players in this team who I always have a comforting feeling about that he is not likely to turn over possession cheaply – it was instructive to hear the typically biased home based commentators today acknowledging that Colwill "looked a player" when they assessed his performance as he made way for Leandro Bacuna in the dying minutes.
Mind you, Colwill really should have ensured a more comfortable last fifteen minutes or so for his team after Ng, much better in the second half, broke down the right and rolled over an inviting cross for the young Wales international who was some six yards out, but Daniel Iversen in the home goal was able to block his shot and the ball was scrambled clear.
Although Preston upped the pressure in the dying minutes, this was a game where City generally defended better than they have been doing this season and,as a result, apart from having to save an effort from Ryan Ledsom around the hour mark, Smithies had a quiet time of it after the break.
With Mark Harris a lively replacement for Davies for the last half an hour and Giles enjoying some success down the left, City continued to suggest they might have a third goal in them, but there was to be no more scoring and so they were able to record a third straight win at Deepdale. A victory which reflected very well on the new boss because he managed to get a reaction from a team which looked well on the way to defeat at half time.
https://mauveandyellowarmy.net/