https://mauveandyellowarmy.net/
I suppose it's no surprise that someone who has been watching football for close to sixty years has little truck with the view which, to be fair, I've heard expressed more in other team sports that you don't start matches with your strongest side on the field.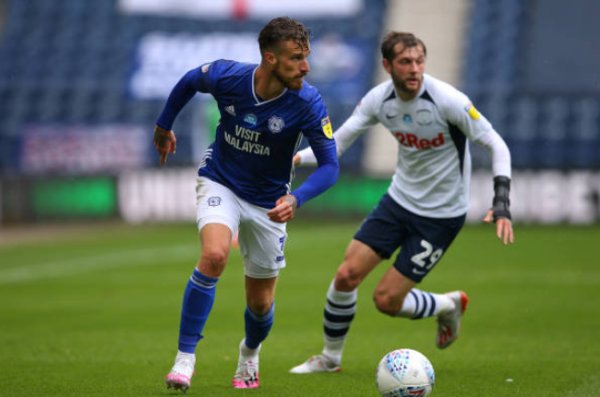 As I say, it's certainly not a view that is prevalent in "the beautiful game", but I can remember some talk of teams doing it in international competitions held in the summer, so it may be that some are considering it in the unique circumstances of post lockdown football with games being played in June and July.
How does any of this apply to Cardiff City? After all, they have a very big squad and, given that they have largely been considered to be inconsistent under performers for the majority of the season so far, I'd say they fall into the category of the sort of outfit where you'd get something like 990 different answers if you asked 1,000 fans to come up with their idea of a strongest team.
So, I'd say in a Cardiff City context anyway, a "strongest team" doesn't exist, but I'd suggest that very few of those thousand City fans that I mentioned above would select the eleven that has started our first two post lockdown fixtures, Leeds last week and Preston today, that Neil Harris plumped for – I know I wouldn't.
With a grafting midfield three of Will Vaulks, Leandro Bacuna and Joe Ralls, the ultra hard working Callum Paterson up front and a pair of wingers in Junior Hoilett and Albert Adomah who, at times, appear to be selected as much for their defensive discipline as their attacking prowess, I think it's fair to say that Cardiff's manager has looked for solidity first and foremost in his starting selection. However, with another contender today for win of the season to go alongside the one over Leeds a week ago, who is going to deny there is method in our manager's "madness"?
By going for graft over craft in his starting line up. Neil Harris is taking a big risk in terms of supporter approval because, let's face it, even with all of their better technical players on the pitch at the same time, City are hardly the sort of team that blow sides away with their silky football are they!
However, I think what is reasonable to say about our manager's thinking is that he is looking to bring on match winners as substitutes with the belief that they can cause more damage against tiring defences in mid summer than they'd manage if they were in from the start.
So, while that might not be quite deliberately not picking your strongest team to start with, it is getting quite close to it. With a 3-1 victory over Play Off rivals Preston on that Deepdale pitch where we've taken some awful drubbings in the past to add to the 2-0 triumph over Leeds, I'd say our manager's policy has been shown to be a correct one.
Brentford were good in beating West Brom at Griffin Park last night to go with their win at Craven Cottage, so I'd rate them as probably the best team in the Championship since the resumption of fixtures, but City are second to them for the moment for me.
I can remember pre season talk from some pundits claiming that the depth and quality of Cardiff's squad would stand them in good stead as the season neared its end, but, as we struggled clumsily and incompetently last autumn such thinking seemed ludicrous – for the first time, I'm beginning to think those "experts" may have had a point!
Just look at what our substitutes have done in our past two matches – scored three of our five goals as well as coming up with two (strictly speaking, three) assists. Robert Glatzel and Nathaniel Mendez-Laing combined last weekend to provide the second goal which gave us much needed breathing space and today they scored widely differing ones after the eightieth minute to add some bones to the suspicion that, for now at least, we have a fitter squad than most of our Championship rivals.
If last weekend's admirable victory over the team that look to heading back to the top of the league as I write this (Leeds went on to beat Fulham 3-0 to open up a three point gap over West Brom – they're not going to mess up this time) was a notable achievement, it had to be said that it was an archetypal Neil Warnock type win, today was different though as, for probably the first time this season, I think we won with a bit of style.
The difference between our last game and this one was twofold for me. Firstly, clearly Preston are not as good a team as Leeds, but, secondly, whereas we won by doing the things we are good at well last week, this time we showed qualities that I did not think we possessed based on the evidence of the season so far.
This was the reason why I even enjoyed what was a very uneventful opening half today in which Sky commentator Alan Parry and match summariser Danny Gabbidon struggled to find much of interest to pass on to neutrals who must have been switching channels in their droves.
However, I was reassured and pleasantly surprised to see City playing with both composure and competence for most of the time. After a bit of a careless start which saw a couple of half chances fall the home side's way, City settled down to look in control of proceedings for much of the time.
True, this so called domination did not manifest itself in desperate Preston defending, far from it – a Ralls daisy trimmer and a gentle Paterson header that caused home keeper Declan Rudd no problems whatsoever being as much as we managed. We were actually passing the ball pretty well though and, although things settled down to produce a fifty/fifty split of possession by the end, there was even an amazing graphic about half an hour in which showed Cardiff possession at 65%!
I'm biased, but I thought our former defender did a good job today in the commentary box – understandably, he clearly knew a lot more about us than he did about Preston, but I thought he came over as knowledgeable and informative.
However, when Gabbs said early on that Neil Harris has been trying to change City's style, I couldn't agree – or at least, I'd seen little evidence at that time of this being the case. I honestly believed that there had been little or no difference between Neil Harris' Cardiff City and Neil Warnock's.
While results had definitely picked up under our new manager, in terms of style things have always seemed much the same to me. After today though I'm going to have change my opinion somewhat.
For example, the three much of a muchness midfielders I talked about earlier all did their bit while also showing that they're not as one dimensional as I've suggested. Vaulks took some lovely corners (our lack of impact from dead ball situations post lockdown has been a surprise, but, for now, it's not been a problem) and passed the ball neatly and crisply at times. Bacuna was again quietly impressive with a mixture of stamina and strength which, for some reason, I'm noticing more these days, while Ralls had a goal to show from a performance that showed he has something to offer as the most advanced of the three.
The second half continued in much the same manner as the first while it was our starting eleven on the pitch with my feeling being that this was a match we would win if we could only step things up a little bit.
The commentary team gave the impression that they felt the same way, but took more of a single goal is going to win this line – a view which I certainly had sympathy with!
Ralls with another low effort which Rudd again saved easily was closest for City, but the under employed Alex Smithies had to react sharply to turn aside a deflected Scott Sinclair effort from about twenty five yards around the hour mark.
That was as close as either side had come, but that all changed with the arrival of Mendez-Laing and Glatzel for Adomah and Paterson with about a quarter of the game left.
Although he played no direct part in the opening goal, Glatzel was instrumental in its arrival because he drew a foul from Ben Davies after dispossessing him some thirty five yards from goal. Hoilett had a go from about twenty two yards from the free kick which was dealt with by the Preston wall, but then the ball was recycled to Dion Sanderson whose fine far post cross was met decisively by Ralls as he showed the all round competence that is a feature of his game by directing his header firmly beyond Rudd.
Unfortunately, the commentators barely had time to let us know how good City's record was when scoring first before Preston were level. Sean Maguire, brought on as a sub, seemed to cause City's backline problems with his movement when he first came on and this helped create an opening for home skipper Alan Browne whose shot was deflected into the path of Daniel Johnson who comfortably side footed past Smithies.
I thought it was a fortunate goal because Joe Bennett's block fell into the perfect area for Johnson when it could have gone anywhere, but there was no denying that City had got careless after earning their lead, both in terms of a wasteful Hoilett finish when he could have made it 2-0 and the way the defence appeared to relax following Ralls' opener.
Ralls made way for Lee Tomlin who had been given little chance to shine against Leeds because we were set on protecting our two goal lead when he came on.
Here it was different though as City looked to attack and this all led to thrills and spills at either end that were unimaginable during the first sixty five minutes.
It had become the sort of game which suits Tomlin and on eighty one minutes, he and Mendez-Laing combined to devastating effect as the winger slipped a pass to this season's talisman whose perfectly weighted return enabled Mendez to sprint clear of a defender and finish in a manner which never suggested he was going to miss for a second.
The harem scarem nature of the closing stages was only added to as a game which began in a torrential downpour ended in an even heavier one which saw puddles begin to form on the pitch and defenders (e.g. Sanderson) sliding about helplessly.
Ex City Academy scholar Andy Hughes could have done better with a far post chance than head straight at Smithies and England one cap wonder David Nugent should have scored, but scooped his eight yard effort narrowly high and wide following the home team's most incisive move of the game.
With seven minutes added time shown, there was definitely a feeling that the match had another goal in it and it duly arrived when Glatzel showed the sort of strength Neil Harris has asked for from him when he brushed fellow German Patrick Bauer aside and cut in from the left wing towards goal with team mates joining him in the penalty area. With the confidence of his lovely strike against Leeds behind him though, Glatzel was never going to pass and he earned the little bit of luck that a slight deflection of his shot beyond Rudd gave him.
There was still time for Preston to miss another fine chance through sub Josh Harrop, but they knew they were a beaten team by then as City swapped places with them to climb into the top six for the first time this season.
The deflection on Glatzel's shot was not the only bit of luck for City because, on another day, they may well have conceded a penalty for a trip by Vaulks in the first half, but Preston could have few complaints about the outcome – this was the performance of a confident and, dare I say it, accomplished Championship outfit which has my man of the match, captain Sean Morrison, back to his 17/18 form.