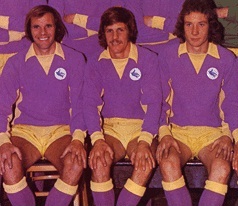 The first thing to say about City's 0-0 draw against Championship leaders Burnley at Turf Moor last night is that until I, hopefully, get a chance to watch it on Cardiff City Player in the next day or two, I only really have the radio commentary I heard (the game was covered nationally by Radio Five Live as well as the usual service from Radio Wales) to base my opinions on.
So, having said that, I move on to what Burnley manager Sean Dyche had to say about the game in his post match press conference. I noticed that after the 2-2 draw at Cardiff City Stadium in November when his side, once again, showed the tremendous character that I reckon is going to take them back into the Premier League at the end of the season by scoring two very late goals to gain a point from a match in which they had largely been outplayed, that he was all about talking up his team, while being short of anything positive to say about opponents who had played well.
I see nothing wrong with that. Mr Dyche is a very impressive young manager and, obviously, his first priority is to get the best out of his squad. If his post match remarks after our two games against Burnley this season were typical of how he normally speaks after games, then you have to say it's a method which works.
Indeed, speaking as someone who sometimes hears the kind words you often get from some managers about their, often beaten, opponents after matches and thinks "he's just mouthing platitudes", I quite admire Mr Dyche's more honest approach.
Nevertheless, I did wonder about his use of the word "travesty" twice when talking about City sub Kenneth Zohore's late lob which struck the crossbar – the Burnley manager clearly thought it would have been a case of floodlight robbery if the Danish striker's shot had been a little lower and given us all three points.
Mr Dyche also remarked that if Burnley could have just converted one of what he made sound like a multitude of chances they created, then that would have forced City to come out and leave gaps which his team could have exploited.
The clear implication to be taken from this is that we spent the ninety minutes on the back foot with the attitude that a 0-0 would suit us fine – I must say that this was not the impression I got sitting a couple of hundred miles away listening to my radio.
Although we are probably as impressive a side currently as we have been at any time since our relegation from the Premier League, we have shown over the past two seasons that we can go to sides at or near the top of the Championship and pick up a point or three sometimes.
Last season may have been right up there among the most boring City campaigns I've ever experienced, but, even so, we did win at two of the teams that eventually finished in the top six – runners up Watford were beaten 1-0 at Vicarage Road in November 2014 and Brentford were seen off 2-1 at Griffin Park four months later in a match which saw two of our players shown red cards.
This time around, we went to unbeaten Brighton in October and became the first team to avoid defeat there as we drew 1-1, so we do have a bit of previous in ruffling the feathers of the top sides on their own ground.
Nevertheless, Brighton apart, our visits this season to other sides currently in the top six before last night had seen us pretty comfortably beaten at Derby, Hull and Middlesbrough by two goal margins and the truth is that those three matches I mentioned earlier where we avoided defeat all had something of the Great Escape about them as we somehow survived despite being under almost constant pressure at times.
Last night didn't have the "feel" of those other occasions to me – it sounded like we competed with what many regard as the Championship's best team as equals and were looking to hit our opponents on the break as Tom Lawrence in the first half and Lex Immers in the second came very close to breaking the deadlock before Zohore was as near as anyone to doing so late on.
Yes, the selection of Kagisho Dikgacoi at the expense of Peter Whittingham sent out a certain signal which the South African's stationing just in front of the back four did nothing to dispel – it was a move borne out of defensive considerations rather than attacking ones.
However, the inclusion of Tom Lawrence for Craig Noone would not fall into the same category, it was a like for like swap, while the introduction of Zohore sent out a clear message that City were looking to score a goal – something that cannot be said of many of Russell Slade's recent late substitutions when we have had a lead to defend.
In my opinion, no matter how results went elsewhere, last night certainly represented a very good point gained by City rather than two lost, but an attacking substitution late on and the willingness to do more than just leave one man isolated up front in the dying minutes did offer clues that our manager is thinking "win" at this stage, where he might have been thinking "draw" before – would we have seen a player like Zohore brought on if we had sixteen matches left to play after last night rather than six?
I should emphasise here that none of this is meant as a criticism of Russell Slade – on the contrary, I feel that, not for the first time in recent weeks, he and his coaching staff should be complimented for their tactical approach in a very important game.
However, the harsh truth is that, despite the, seemingly, justified praise our performance has got, our chances of a top six finish have to be less now than they were on Saturday night.
At that time, it was easy to see a scenario whereby we could get past a Derby team that had looked ordinary in losing to us, but, by thumping fourth placed Hull 4-0 last night, the big spending Midlands side have done something which could transform the mood around that club going into the decisive phase of the season. All we can do for now is await Derby's, almost inevitable, three points on Saturday when they entertain a doomed Bolton, who will probably have their relegation confirmed by 5pm that day, and see if their away day insecurities return for their awkward looking trips to Charlton and Bristol City.
At Hillsborough, ex City man Craig Conway did us a favour by giving Blackburn the lead in the second half only to promptly get himself a red card which must have been a huge factor in condemning his team to a 2-1 defeat. In my piece on the Derby match, I said that I thought Sheffield Wednesday were the least likely to catch of the two teams within our reach and, although their run in contains some awkward games, they have the grinding efficiency of four successive wins behind them so, not withstanding that big win over Hull, I still believe Derby's switchback results offer us the best chance of a Play Off place.
We could easily have now been in a position where we had little left to play for if our last two matches had gone badly, but now we can take heart from the fact that our next four games all look winnable – I say that knowing that we've found it very tough to win two successive matches this season, let alone four, but we should surely take confidence from the fact that we've been too good for Derby and matched Burnley in the last four days.
Having both won their last two games, the away trips to Fulham and Brentford look trickier than they did before the international break, but these are two very erratic teams who will face us believing that they are probably safe from the drop in Fulham's case and possibly mathematically sure of staying up in Brentford's.
QPR have tightened up under Jimmy Floyd Hasselbaink and have individuals who are perhaps more Premier League standard than Championship, but they've often struggled to look like a real team when I've seen them this season and will come here with nothing to play for. As for Bolton, if it turns out that we miss out on the top six because we couldn't beat an already relegated team which is adrift at the bottom of the table at home, then we'll have no one to blame but ourselves.
It's also in our favour that it's looking increasingly like Birmingham will come here on the last day of the campaign with their promotion hopes gone – indeed, their manager Gary Rowett seemed to admit this after their 2-1 loss to Brighton at St Andrews last night when he said "I think I'd look a bit stupid if I said we could still get into the play-offs now, the gap's 11 points".
Elsewhere, Preston manager Simon Grayson must, surely, be thinking the same as his counterpart at Birmingham even if he is not saying so in public – his team are the same eleven points behind sixth place after their home defeat by Fulham and do not have the game in hand that Birmingham do.
Meanwhile, Ipswich are having serious goalscoring problems at completely the wrong time – it's now three matches without a goal and only seven in their last eleven after their 0-0 home draw with relegation probables Charlton. Manager Mick McCarthy said "We will try and win our next game and win as many as we can and see where that takes us. But we are now in a must-win situation – there is no getting away from that." after last night's stalemate – perhaps things have not got quite as bad as that yet for the Tractor Boys, but, with their poor goal difference and trips to Sheffield Wednesday, Middlesbrough and Derby to come, I'd say they need to win five out of their last six matches now.
So, increasingly, it appears that if the current top six are going to be disturbed by the end of the season, it's going to have to be Cardiff City who will do it – even if, as is probably the case, we come up short in our Play Off bid, we will only need to have a reasonable end of the season to be regarded as the best of the rest.
Yes, I know that, fundamentally, finishing seventh will mean absolutely nothing, but I for one would be prepared to give our manager, his coaching staff and our players an awful lot of credit for getting us there if it happened – we have improved so much since the turn of the year and with the relationship between supporters and club gradually improving and the recent good news regarding debt to equity to take into account as well, I believe we can look forward to 2016/17 with a lot more optimism than we were doing just over a month ago.
Finally, I'll emphasise that, despite what I've said in the last two paragraphs, I'm certainly not going to state that the top six will not include Cardiff City after forty six games for sure yet, but I must say that it sounds like Anthony Pilkington sustained an injury last night that could well keep him out for at least some of our remaining matches.
The goals may have dried up for Pilks lately, but he's still been doing his bit when it comes to occupying opposing central defenders and I think we'll miss him a lot if the injury is as bad as feared.
Whereas, a draw was a satisfactory outcome last night, we'll need more than that on Saturday at Fulham and so I believe we'll need an attacking presence who we can play off. My hope is that Lex Immers is left to do what he has proved to be so effective at and is deployed behind our main striker, rather than him being given the job himself. Kenneth Zohore caused the Burnley defence problems when he came on and he has pace, physical presence and some ability in the air – I suppose there is a question mark about whether he could sustain what he did last night over a full ninety minutes, but he seems to me to be our best option to play up front on Saturday if Pilkington can't make it.
*pictures courtesy of http://www.walesonline.co.uk/