Pride comes before a fall they say don't they? Clearly, they've not heard that one at what I'll always call Loftus Road because they were oleing their team after about an hour of today's game between Queens Park Rangers and Cardiff City, while, apparently, the commentary on the home club's website was talking of Cardiff being made to look foolish by a side that they were making out was a mixture of Brazil 1970 and Barcelona 2011!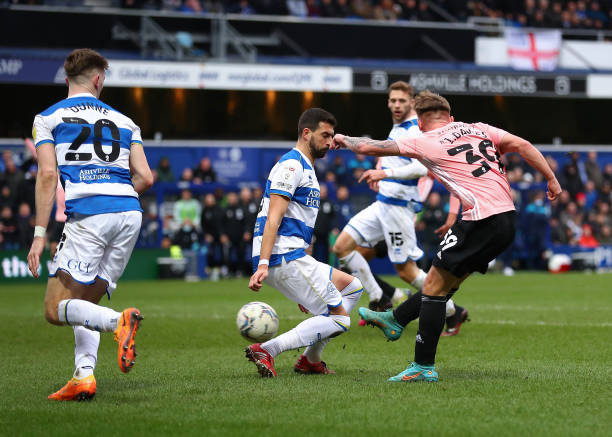 I should emphasise here that I didn't hear those commentators, I'm going by messageboard remarks about them during the game, but having heard and seen so many commentaries by fans of their teams matches down the years, I'm sure what I read today was an accurate description of what was being said.
The stream I watched didn't have a commentary, but I could hear those oles by the home fans and can remember thinking that there's a time and a place to be doing that and when your team is just 1-0 up with half an hour to play is not it.
In fairness to the QPR fans in the ground and the commentary box it had become a pretty one sided 1-0 and by then I was clinging to a hope we could get something out of the game merely because there was one goal in it, but there was nothing happening on the pitch to offer hope that a Cardiff goal might be coming.
Come it did though and another one followed soon after it. More than that, apart from a free kick needlessly conceded just outside our penalty area deep into added time, there was nothing from the team in the Play Off position to cause us any concern. Indeed, we really could, and should, have made our win more comfortable as decent chances on the break were wasted.
As it is, our 2-1 win takes onto forty two points, some eighteen in front of Derby in the final relegation place who won their six pointer with Barnsley today by 2-0.
I don't want say we're safe from the drop now because of a ridiculous feeling that this would cause us to lose our last ten matches, but, we are safe now aren't we. Safe as we reach the end of the first week in March, who could have thought there would be any chance of that being the case six weeks ago just before we played Nottingham Forest?
However, nineteen points from ten matches has seen us climb only four places up the table and two of those are purely down to today's win, but, now we can definitely look upwards – the top half of the table is now only eight points away, it would take some doing to make it into the top twelve, but it's certainly possible now.
As has been the case for the majority of the ten game spell that has turned our season around, we were back to the sort of possession figures City fans had become used to under the likes of Warnock and McCarthy, in fact, they've probably been slightly worse. Today, for example, we only had twenty eight per cent possession and, to be honest, you could understand the complacency from the QPR fans in some ways because the difference between the two sides when it came to moving the ball around in a controlled manner was downright embarrassing at times.
What's helped City a lot in recent weeks has been the way that we've improved our defensive structure and surely it cannot be a coincidence that this has coincided almost exactly with the time Ryan Wintle returned from a loan move to Blackpool which seemed odd at the time and now looks downright ridiculous.
I hate the line trotted out by pundits, and those within the game, when they say that a player does the "unseen" things well, because the implication is that us mere supporters all too thick to realise what he is doing that is so good, but I must admit that it is hard to discern what makes Wintle so influential in this City side.
Perhaps an incident in the dying seconds today when what might have been a dangerous flicked header found its way through to Alex Smithies offers a clue as to what the Wintle effect is – as the ball ran through to our keeper some ten yards from goal, who was the last man making sure that there would be no late disaster or freakish happening to deny us the three points? Why it was Ryan Wintle of course – Ryan Wintle, the man who is always where he should be!
It seems to me that Wintle is a specialist in a position where we needed one for years, but never had one. He puts out fires to use more pundit speak, but also is a good enough passer to be the man who can launch a measured attack from a deep position – we may look uncomfortable in possession a lot of the time, but we don't when Wintle has the ball.
It also must be said that, although today showed that there is still a propensity for individual errors that continue to cost us, the back three are playing far better lately (the disaster that was Bristol City away appears to have been a sort of line in the sand). I've been critical of Aden Flint quite often this season, but I thought he was faultless today. Mark McGuinness will do something every now and again which reminds you that he is very much a novice at this level who is learning on the job so to speak, but he's becoming an uncompromising performer at this level who I'd say is a future captain of the club if he stays here for a decent period of time.
If you're not going to have the ball for long periods, then it's reassuring to think that you have a solid enough defensive shape to ensure that much of the possession your opponents have will not be in dangerous areas – in fact, in recent matches, that possession has tended to be in our opponents half or around the half way line.
For a spell after they took the lead QPR, a crisp passing outfit at their best, were able to move the ball through us at a decent pace and with good accuracy. It was reminiscent of what was happening too often earlier in the season, but, tellingly, only once did it result in a scoring opportunity for the home team.
In the first meeting of the teams at Cardiff City Stadium in October, Andre Gray scored the game's only goal when a pass by Andre Dozzell sliced us open through the middle. Today it was the turn of Chris Willock as he played a glorious ball inside the desperately covering Perry Ng to leave Gray in on goal some twenty yards out, but the man who has been sold for close to £20 million in his time tried an ineffectual flick at the ball with his right foot when it was crying out to be hit with his left and the ball went well wide – it can be seen now that it was a turning point in the game.
Going back to Ng, no blame could be attached to him for not cutting out Willock's fine pass, but it was different for the goal we did concede. It also should be said that Jordan Hugill didn't help matters by presenting QPR with possession around the half way line with a poor touch which gave Rubin Colwill no chance. From there, the ball was worked out to Moses Odebajo on the right who swung in a very good cross aimed at his fellow wing back Lee Wallace. Ng had to try and intercept what was an awkward ball, but I'm sure he'll feel he should have done better with it, as his half clearance rolled towards Gray who smacked the ball in first time from about fifteen yards out.
This error adds to the one Ng made at Liverpool in the FA Cup which cost us a goal and so it's to be expected that questions will follow regarding his effectiveness as a centre back, but my opinion is that he's done a very good job playing in the back three with what he brings to the position outweighing his errors that have cost goals – it's something that needs monitoring, but, for now, I'm definitely happy to see him continuing to be part of our back three.
Until then, City had defended well under some pretty sustained home pressure – Smithies had made a smart save from a Gray flick at a good cross from the talented Ilias Chair, but it was City who'd come closest to scoring early on when Colwill did really well to set up Hugill whose angled shot was well blocked by former City keeper David Marshall.
Overall though, the experiment of playing a front two of Colwill and Hugill didn't work, not least because we had no one who could stretch the game by running beyond the home back three and, with the first named's influence waning after a very promising start and Hugill finding it hard going as an often isolated target man, City could hardly be surprised at another half time nil in a season which has been full of them.
The remainder of the first half was a rocky time for City – within seconds it was nearly 2-0 after Chair played in Wallace for what was a great chance, but he produced a typical defender's finish which made Smithies save from a powerful shot hit straight at him quite an easy one.
We made it to half time deservedly behind, but the single goal margin was probably right. Ominously however, the second half carried on in the same pattern as the latter stages of the first period – actually it was worse.
Steve Morison decided enough was enough in the fifty sixth minute and introduced Isaak Davies, fresh from signing a three year contract extension this week, and Joel Bagan for Will Vaulks and Alfie Doughty. The reshuffle saw Colwill drop back to the number ten position as Davies went alongside Hugill in what was definitely a more attacking line up.
It had no effect whatsoever in the short term though apart from prompting the outbreak of the oles from the home fans. Perhaps it was that which got City, and in particular Davies, going because the QPR back line were just about to get a taste of something they hadn't experienced yet in what had been a pretty comfortable afternoon for them – serious pace.
Hugill had fired not too far over from twenty yards to give the sizeable City contingent something to get excited about, but they were in raptures a few minutes later, when Bagan played one of those clever little balls clipped down the line which he specialises in to release Davies who had left one of the home centrebacks (not sure which one) on his backside claiming a foul. Referee Graham Salisbury was having none of it though and the young forward burst into the penalty area, cut inside an opponent and hit a powerful shot from ten yards that Marshall parried into the air, but it was confirmed that the ball had crossed the line as it hit the ground despite the keeper's desperate efforts to claw it out.
Marshall probably should have done better with Davies' shot, but its power seemed to take the Scotsman by surprise and so, against the run of play, City we're level, but not for long though!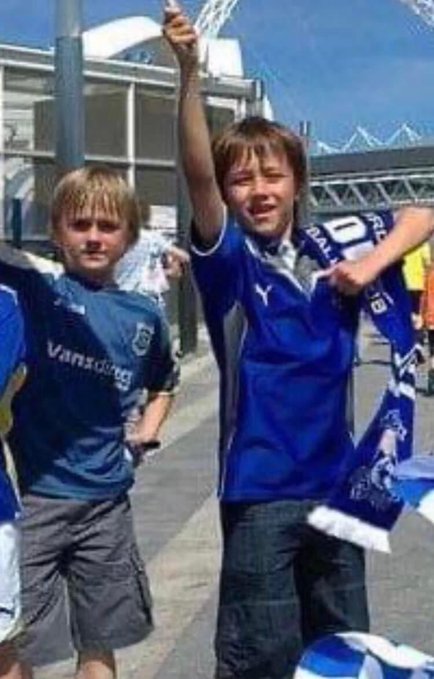 Recognise them?
Four minutes later, Davies' pace proved too much for the home defence again and Rob Dickie was cautioned for a foul which brought down the City man a couple of yards from the edge of the penalty area. Steve Morison said after the game that he thought it was a red card offence, but, having seen replays of the incident, I think the ref got it right.
Dickie and his team were punished though when Colwill fired the free kick home with his right foot high into the corner of the net with Marshall having no chance this time and a turn around that had looked impossible a ten minutes earlier had been completed. Believe me or believe me not, I had a good feeling about what Colwill would do with the free kick after watching the way he grabbed the ball almost demanding that he take the free kick.
Not everything Colwill did today came off and some of his defensive work made the manager's public reservations about parts of his game seem justified, but, to revert to pundit speak one last time, throughout the course of this season, this teenager has been City's biggest "difference maker" – that probably says a lot about why the season has turned out like it has, but I really don't feel City should ever be leaving him out of the eighteen currently if he is fit and available to play.
Davies could have played Colwill in with a better pass as the City's Academy kids ran amok with Bagan doing his bit as well, but the best chance came when Davies sent Uche Ikpeazu through, but the sub, who had come on for Hugill made a right mess of the opportunity to the extent that he didn't produce a pass or a shot as the opportunity rather dribbled out into nothing. Apart from that though, I thought Ikpeazu did well as he played a prominent part in ensuring that what looked a shell shocked QPR team were unable to build up any sort of head of steam in their search for an equaliser and, that late free kick, which saw Yoann Barbet's effort clear the bar by yards, apart, City had few alarms in holding out for the win.
In other games, the Under 18s season is rather petering out I'm afraid as they're on a winless run of six games, the last four of which have been lost. The latest of them came by 2-1 at Charlton with Isaac Jefferies goal (which came in the 103rd minute!) no more than a consolation. In the Highadmit South Wales Alliance Premier League Blaenrhondda FC returned to winning ways with a 2-0 victory at Porthcawl Town Athletic. In the Ardal Leagues South West, Ton Pentre and AFC Porth now occupy the bottom two positions, the latter were able to pick up a home point in a goalless stalemate with Caerau Ely, but Ton Pentre's poor run continued with a 2-0 loss at Ynysygerwyn.
Finally, I know I've talked about this blog being virtually advert free in the past, but I'm now going to give a shameless plug for one of the regular contributors to the Feedback section's latest book. Anthony Mor'OBrien has been giving us the benefit of his football knowledge, wit and way with words for years on here now and he's shown he isn't all bad by making his newest book all about dogs – or one particular breed of dogs to be more precise – it's called "Airedale Anecdotes, 1850-1950″ and will be available from Amazon.
On the subject of books, having done the reference work, I started writing my latest Cardiff City book in the past week – tentatively entitled "Tony Evans walks on water", the plan is for it be a review of our 1975/76 promotion season similar in format to Real Madrid and All That, published in 2020 which was a lookback at City's 70/71 season. The plan is for Tony Evans walks on water to be published in the autumn and I'll post periodic updates on how it's going over the coming months.