I think of myself as someone who knows a fair bit about football, but I honestly don't think my knowledge of the game is better or more complete than many of the twenty odd thousand Cardiff City fans that used to turn up for home games until March of this year.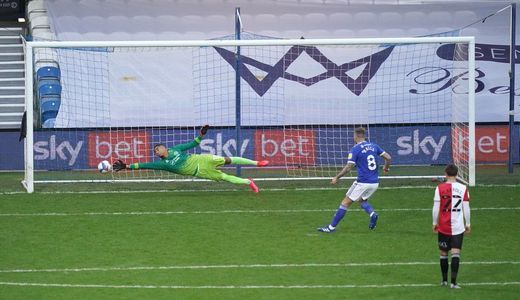 Joe Ralls scores from the spot
Besides that, I have always believed that those who earn or have earned money from playing the game have a big advantage over nearly all of those of us who have not done so, whether we be supporters, opinionated blog writers or professional journalists or workers in other media for all sorts of reasons. In general, I believe the pros know best and so, although I don't always succeed in doing this, I try not to give the impression that I think I know better than the players and coaching and management staff at Cardiff City because the truth is that I don't.
However, there are times when things which seem obvious to me, and thousands of other City fans I daresay, are either ignored or missed by the professionals which leave me scratching my head as to what the men in charge are trying to do.
To show you what I mean, let's go back to March 2019 when Sol Bamba suffered the injury which it could be said virtually ended his career as a first teamer at City. Now, Sol wasn't a bring it out from the back and dictate play type of centreback, but, as someone who had played in a defensive midfield role for substantial portions of his long career, he wasn't afraid to have possession of the ball in potentially awkward areas and play fairly ambitious passes that came off pretty often.
Sol was able to make a success of his midfield role because he had more mobility and athleticism than your "traditional" centreback and, so, when paired with someone like Sean Morrison for example, there was a nice contrast between the two of them which helped cover all eventualities so to speak.
Sol's injury meant that Bruno Manga, who had been playing at right back for much of the time moved across to the middle. Again Bruno had no great reputation as a ball playing defender, but he was another who was pretty comfortable with the ball at his feet and while he may not have had Bamba's midfield experience, the fact he could make a decent fist of playing full back at Premier League level offered confirmation that he was another with the physical attributes to slot in well alongside the more statuesque, but physically stronger, Morrison.
So, why was it that Neil Warnock chose to sign Aden Flint as first choice centreback to step in alongside Morrison when Bruno decided to return to France that summer?
Anyone who had seen Flint play knew that he was a Morrison type centreback and we would have two in the middle of our defence who were unlikely to be comfortable against the sort of attacking play and players that had come to the fore in the Championship during our season away from it.
To Warnock's credit, he did also bring in a free transfer player who was more of a Bamba/Bruno type defender in Curtis Nelson, but,he only broke into the side in a meaningful way when Morrison injured his arm in the derby game at Swansea almost a year ago to the day.
It was similar in midfield where we were left with Joe Ralls and the newly signed Leandro Bacuna, who Warnock described as a replacement for Aron Gunnarsson who would also be leaving the club in the summer. So, we were short of bodies in central midfield and our manager moved to address this by signing Will Vaulks. However, he then also signed Marlon Pack from Bristol City just before the window closed and in subsequent interviews almost made it sound as if he wouldn't have bothered bringing Vaulks in if he had known that he would have been able to sign Pack a month or two later.
Warnock barely used Vaulks in league matches before he left the club, but new boss Neil Harris was more keen on him and over the second half of the season, we saw a degree of rotation in the central midfield area because we had four senior players in that area.
As I mentioned on here recently, Vaulks, Ralls, Pack and Bacuna all have different things they bring to the team, none of them are poor players at this level, but, nevertheless, they are all a bit samey.
If you were to try to devise the perfect central midfield player whereby you had physicality, durability, solidity, and work rate (all important considerations for the perfect central midfielder) as one extreme and technique, creativity, dynamism and flair as the other, I would say that all four of our central midfielders were be closer to the former than the latter – to repeat the term I used when describing the Morrison/Flint partnership again, we were not covering all eventualities in central midfield.
Knowing Neil Warnock's methods and preferences, it was not really surprising that we ended up with the four central midfielders that we did, but, more relevant now, is that Neil Harris, clearly was happy to go with the previous manager's choices last season. The fact that our manager, apparently, didn't look to add to the ranks in that area this summer confirms that he was content to go into this season with a central midfield that doesn't cover all eventualities.
Sorry for this very long preamble, but I wanted to explain why I have spent significant portions of this season, and last, thinking "I don't get what the plan is" to myself and it's in this context that I come to today's 3-2 defeat by QPR at Loftus Road, which is now approaching bogey ground status for us, and ask what are we trying to do this season?
For years now, we've insisted on having a big target man and two wingers. I've mentioned this a couple of times already this season, so I won't spend too long on this, but why have wingers, who play on the "wrong" side, whose first instinct is to cut inside and shoot – if we're going to do that, wouldn't a striker who was more of a "fox in the box" be more appropriate?
We were promised more dynamic full backs and, so, presumably, this was supposed to mean full backs going outside our so called wingers and getting the crosses in that they were not providing but, so far, all I've seen is mostly more of the same from last season and far more injuries to said full backs.
At half time today, I asked if we have played "a bit of football" while playing well this season at all? We did pretty well against Bournemouth, but, in my opinion, were somewhat fortunate to draw – apart from that, it has been the grind that we have become all too used to in recent seasons.
People talked about us being awful in the first half on Wednesday at Derby, but we surely couldn't have been as bad then as we were today against a team that had not won in seven matches could we (Neil Harris evidently didn't think we were as he piled into his team in his post match interview today calling the first half display the worst he's seen since he's been at the club)?
The commentary in midweek talked about how slow we were in possession, well we were again this afternoon, but we were also very slow out of possession – we looked either knackered, disinterested or possibly both, how can this be?
Rangers were made to look devastating on the break and, certainly, last season they were capable of being that at times, but they'd not scored in four games before today! I would say that City were slightly unlucky in that the goals, particularly the brilliant late winner, had something of a "hit and hope" element to them and to lose a goal so late on is always very tough on the team conceding, but we got exactly what we deserved for our display over the ninenty minutes.
We were lucky to only be 2-0 down at half time (we NEVER dominate teams in the way QPR dominated us in the opening forty five minutes), but with Vaulks off, he's just not got started this season yet, Ralls pushed back from the number ten position which he's not suited to, Josh Murphy moving inside and Junior Hoilett on as one of our nominal wingers, we did improve after the break with Murphy soon providing the sort of pass we would never have played with our first half set up to enable Keiffer Moore, quickly learning how hard it is to play as a number nine for Cardiff City, in for the first of the two penalties he won.
Ralls put the first one away confidently, but I "had a feeling" before he took his second one, which was saved, only for our longest serving player to put away the rebound. Morrison and Moore came close to scoring as well, but we still didn't really create much despite the big improvement on what had gone earlier.
Although our first substitution can be said to have worked, the decision to take Murphy, who was playing well in the second half, off for the second one had the feel of "I have to take him off because I always take him off" to it and giving young Mark Harris about a minute to come on and save the match for us was all a bit pointless.
Apart from an occasional moan, I've not been critical of Neil Harris at all really since his appointment nearly a year ago, but this is beginning to look like his biggest crisis at Cardiff so far and the lack of a response to the uninspired stuff seen at Derby in the first half today did not look good for him.
Our manager's preference for midfield players who are more artisan than artist does not exactly invalidate his oft repeated claims that he wants to adopt a more of a passing approach at City, but the fact that he is content apparently to send out sides where so many players do not pass the ball well does rather tell a story.
Yes, we do have more of the ball than we did and we do look to play out from the back more, but that play is so laboured and our passing so unreliable that the suspicion grows that opponents are perfectly happy to let us have the ball because, as happened at Derby too often, there is a very fair chance that we will present it back to them in a dangerous position for us.
Our next opponents, Barnsley, had an impressive win over Watford today and are in good form, while a derby on Friday against Bristol City won't be easy – they've been struggling in recent games, but we've been struggling all season.
Eight years ago this coming Friday, we went to Charlton and were beaten 5-4 in a crazy game – that was a seminal night for Cardiff City because, since then, we have become a different team from the scatty, inconsistent, often frustrating, but occasionally brilliant and hugely entertaining outfit that Dave Jones turned us into.
Malky Mackay decided that things needed to "tighten up" and, with occasional diversions which never lasted long, that's how we've been for the last eight years. We're physical, defensive minded, set piece orientated, direct, reliant on two or three to provide some creativity, we don't trust youth and generally speaking, "keeping our shape" is more important than having "runners" from central areas joining up with our single striker.
This approach has been successful at times – we ended up winning the Championship comfortably after Mackay's shake up and, after a start where we did play some exciting football, we ground our way to another promotion under Warnock three seasons ago. For the rest of those eight years though, we've been a dull, take it to the corners when you're 2-0 up in added time (even the Under 23's we're doing that last Tuesday!), let's keep it tight even at home type of outfit where skill and panache are, if not exactly frowned at, not heavily encouraged. Whitts always provided some stardust, Lee Tomlin did at times last season and, hopefully, Harry Wilson will this time around, but we're really heavy going most of the time and, in these times when life is, let's face it, pretty miserable, I for one am wanting more from my football team..
There was some better news for the Under 18s at least as they won for the first time since their opening game of the season this lunchtime when they beat Coventry 4-1. Three first half goals in ten minutes put them well on the way to victory as Caleb Hughes, with a penalty, Siyabonga Ligendza and Taylor Jones gave us a lead which, even with the teams unwelcome recent habit of losing games they were leading at the interval in, looked big enough to guarantee the win. A penalty for the visitors on the hour mark caused some alarm, but a last minute goal by Taz Mayembe, playing for the first time since the opening day of the campaign, confirmed their second 4-1 win of 20/21.