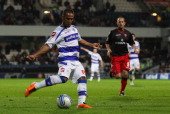 Wayne Routledge scored twice as Queens Park Rangers placed one foot in the Premier League. The Londoners now have a 13 point lead over Cardiff in 3rd place and barring a catastrophic collapse they will be playing Premier League football next season.
The 3 - 0 home win over Sheffield Utd means that the Blades are cut 7 points adrift of safety with just 7 games to go.
Incredible to think that another big club (and Sheff Utd are a big club) is likely to drop down to the third tier of the football pyramid. They will join their city rivals Sheff Weds at that level (if Wednesday stay up). To be honest I have little sympathy. Utd are a hateful club.
Utd play Cardiff at Bramall Lane in a weeks time. I really hope we see a Cardiff win to send the Bluebirds closer to promotion and the Blades closer to the drop. Of course by saying this I've left myself wide open for a spot of reverse Shadenfreude.