Full Sun story here: http://tinyurl.com/6ckcw4k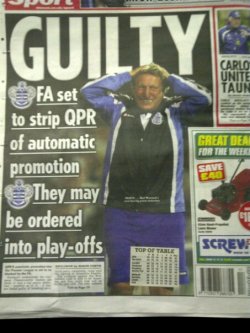 QPR could face a points deduction if they are found guilty of breaking third-party ownership rules over the signing of Alejandro Faurlin.
A four-man panel made up of an independent QC, two members from the FA's disciplinary panel and a football expert - a former player or manager - will meet on Tuesday to discuss QPR's fate.
The hearing could last up to three days with a decision expected next Friday.
QPR have responded by saying 'The Club are aware of the story printed by The Sun newspaper today (Friday 29th April 2011), but will not make any further statement as both the Club and The Football Association agreed to make no comment on this matter until after the hearing.'
Several weeks ago it was thought that QPR would likely get a fine, or if they were far enough ahead maybe a nominal points deduction hat would not affect promotion but with the top of the table much tighter now and QPR still not having accquired enough points for promotion yet it's starting to get a bit nervy.
As a Cardiff fan I want to see Cardiff win their promotion on merit. The club's focus must be to finish the last two games with more points than Norwich and secure a place in the Premier League by right. The QPR situation could get very messy and I'd love to think we were clear of that and safe in the knowledge we were a promoted team without it being decided in the courts, which is where this saga seems to be heading.