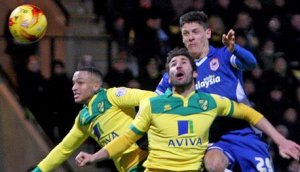 The 31 year old signed from Rotherham at the beginning of the month and is hoping the positives of City's second half effort at Norwich can be built upon.
"There's nothing to lose ... we could go out there and give it our all," said the former Rotherham striker.
"We think the squad is blessed with some really talented players now and it's just about putting it together with the graft and the team ethic that's going to stop us going to places ... and conceding three goals."
Revell's first goal for Cardiff started a second-half fight-back which saw them reduce the deficit to a goal after 64 minutes.
But the Canaries clung on, leaving Russell Slade's side lying in 13th position - 13 points and nine places below their opponents on Tuesday night.
Cardiff are away at Middlesbrough on Tuesday night.
Revell, though, is full of confidence after scoring on his second appearance for Cardiff.
"I've come to a massive club, the expectations are huge," he added.
"Last week I thought I did okay when I played and this week I've done well and capped it with a goal, possibly should have had two.
"I've just got to keep going, you always have doubters and that's what drives you to do well.
"I'm really proud to come to this football club because it's a massive achievement for me to come to such a huge club.
"I'm going to grab it with both hands and really try to prove to people that I deserve to be here."