Cardiff's Neil Harris: "We have to make sure we are a little more streetwise. The first goal mentality, we've got it away from home. We've had it for 12 months away from home. The majority of the time we have had it at home as well. But all of a sudden, we've got key moments going against us at home.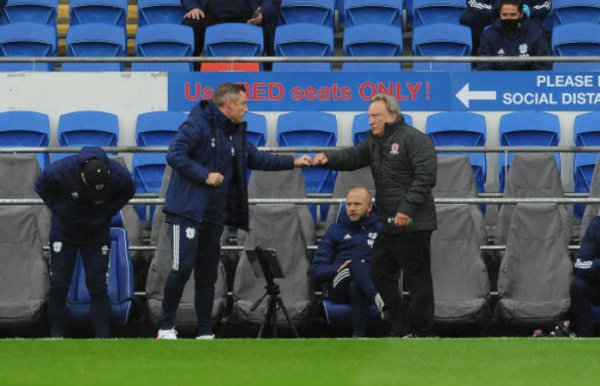 "Ultimately, they've come from set-pieces or giving the ball away cheaply. Bournemouth scored a good goal against us, I've got no problem with that. But the other five goals we have conceded in the league at home, three of them have been from set-pieces and two have been from us giving the ball away at the edge of our own box
"You can say it's unlucky, but you get to the stage where it's not acceptable."
Middlesbrough's Neil Warnock: "I'm disappointed with the goal as it's an obvious foul. They've blocked Saville to give Kieffer Moore a free header. Referees at this level should be able to see things like that.
"It's a disgrace really after last Saturday's offside that wasn't offside. That's four points we've thrown away this week with decisions. I'm disappointed because I thought we did enough to win it."