https://mauveandyellowarmy.net/
A look back at the draw at The Madejski that has produced another fixture between the clubs in 10 days time.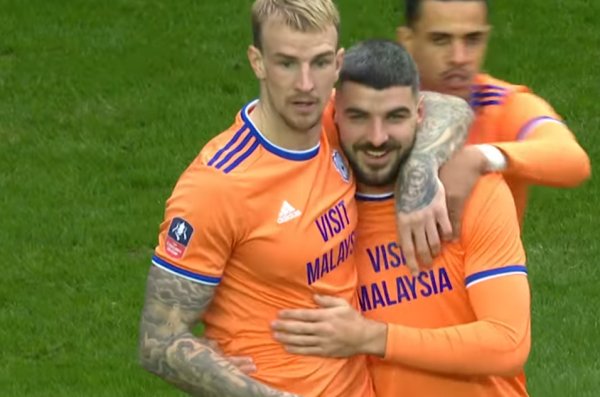 Looking at things entirely selfishly, with my car out of commission until at least Wednesday, Cardiff City's 1-1 draw at Reading in their FA Cup Fourth Round tie today means that, after two evening kick offs in the coming week which will mean me getting home at something like 11.30, I now face another one a few days later with the prospect of extra time and penalties on top (which is certainly a possibility with this squad) – can anyone recommend some good park benches I can sleep on in Cardiff in the event of my car still being off the road by a week Tuesday?
Maybe Monday's draw for the Fifth Round will offer a potential tie which will alter the perceptions of both clubs and their supporters. However, as things stand following a first game in which Reading made eleven changes from their starting eleven at Forest in midweek and we made seven from the team which drew at Birmingham a week ago, the thought of more of the same in ten days time is a wholly unappetising one.
A draw which sees the winner facing a leading Premier League club might be enough to persuade both managers to go with stronger teams and fire supporters up a bit, but, at the moment, City are going to have big problems selling tickets for the replay given those two home games in quick succession a few days beforehand and the general downbeat feeling around the place lately.
For reasons I'll come to later, I only saw the second half of today's game and had to rely on radio commentary for opening forty five minutes, but that was enough to make me believe that City really should have sealed the tie at the first attempt.
With so much comment in the last week concerning how poorly we have started matches this season, it felt like par for the course that we conceded a goal after just eight minutes, but, at least this time it didn't mean that we fell behind when our opponents scored.
Three minutes before Reading's goal, Aden Flint had nodded on a Josh Murphy cross from a ball won through good pressing by Joe Ralls into the path of Callum Paterson who steered it into the net from the edge of the six yard box.
Typically, it didn't take the side which seems to have an aversion to being ahead in games lately to get back into the situation they are so familiar with when Charlie Adam picked out Yakou Meite with a pass clipped over a square looking defence and the young striker duly tucked his chance away.
However, this time at least, the much criticised City back line was pretty blameless because the scorer was clearly in an offside position when Adam's pass was played.
Meite reacted very emotionally to his goal, which is hardly surprising when you consider his father had passed away in the week and he had been given a leave of absence from the Forest game. Meite received a booking for removing his shirt after scoring to reveal a t-shirt with a message to his father on it and it seems he was in tears when referee Marc Edwards cautioned him – I know rules are rules and they say any scorer who removes his shirt after scoring should receive a caution, but couldn't they have been bent a little this time?
Referee Edwards was a new name to me and a glance at his career so far reveals why. He officiated at National League level for the past two seasons and has only been in charge of games at League One and Two level this year – today's match was the biggest one of his career so far.
The official could hardly be blamed for a linesman's error when it came to Reading's goal, but he was the subject of some pretty scathing criticism from the Radio Wales commentary team during the opening forty five minutes and so I was quite looking forward to seeing him in action during the second period – in the event, I was disappointed to see that he was nowhere near as bad as I was expecting!
It should be said here that a goal scored by Meite just before half time which was ruled out for offside apparently should have stood, so I suppose these things balance themselves out in the end, but there was enough action in and around the Reading penalty area to conclude that it would have been something of an injustice if City had gone in behind at the break.
Gavin Whyte and the impressive Will Vaulks both fired narrowly wide from distance and the latter was also foiled by home keeper Sam Walker with another very well struck effort. However, the way City botched a good chance from the follow up as a cross was drilled too hard for the unmarked Flint to turn in was indicative of a lack of quality with the final ball, which also reared it's head when it came to dead ball deliveries, which was a feature all afternoon long.
Robert Glatzel shot into the side netting from a tight angle after getting around Walker as City generally had slightly the better of things, but there was another injury setback for Ralls as he had to be replaced by Marlon Pack after only half an hour.
Given that it had sounded quite a lively affair thus far, I was hoping for more than the third quarter of the game provided when I got the chance to watch rather than listen to the game. City were already beginning to get on top though when Reading, already fielding second string centrebacks, lost one of them, captain Matt Miazga, as he was stretchered off and the other, Tom McIntyre, to a second yellow card (I didn't see the first one, but he could have few complaints about the second one).
With a man advantage and up against rookie defenders, City, just as they had done at Birmingham, went unashamedly route one in their approach. However, even this critic of our over use of such tactics has to admit that when Flint was winning headers virtually every time he came forward and our forward players generally were getting the first touch to balls that were delivered with a bit more quality then route one is the most likely way that this set of players are going to win games like this one.
Although it's a bit unfair to just put our failure to win down to just one incident, it's hard not to look beyond an incredible miss by Sol Bamba with about ten minutes left.
Bamba's howler came after Glatzel had got his head to a cross from sub Junior Hoilett and then Flint, again confirming the feeling that he is more effective in the opposition penalty area than ours currently, produced a scissors kick which took Walker out of the game and left the unmarked Bamba to apply the final touch from no more than four foot out on the far post.
Heading the ball wide from such a position was bad enough, but, for me, the thing which really made it such an awful miss was the decision to head a chance which would surely have been better dealt with by putting your foot (either foot!) through the ball.
Corners, crosses, free kicks and Vaulks' long throws rained in on the Reading penalty area for the remainder of the match, but I knew we weren't going to score after that miss and I suspect the team did as well, so it's now seven draws from our last ten matches in all competitions with the distinct feeling that there are plenty more of them to come!
I suppose I should make some reference to the announcement during the first half about "racist and homophobic" chanting from the away supporters. The anti English songs which we hear at almost every game we play have been sung for years – they bore me rigid and I fail to see how they benefit the team.. However, if, as seems to be the case, they were the reason for the announcement being made following complaints by a couple of Reading stewards, then the two people concerned really do need to concentrate on what they're being paid to do and leave any complaining to supporters.
Anyway, the reason why I only got to watch the second half of today's match was that I finally got to see one of the sides from the Rhondda area I support play for the first time this season – I went along to watch Blaenrhondda take on Caerau FC in the Highadmit South Wales Alliance League Premier Division.
With just one win and a draw to show from their fourteen matches so far, Caerau are having a miserable time of it and having been beaten on their own ground 8-0 by Blaenrhondda earlier in the season, I had no great expectations of seeing anything to match some of the entertaining and competitive games that I had enjoyed at the same ground last season.
I was proved right I'm afraid, but some credit should go to Caerau for making a much better fist of things than they had done in the first meeting between the teams.
I did not recognise many of today's Blaenrhondda side with most of the players I recall from last year having seemingly moved on and, on this evidence, they do not look as strong as they did in 18/19 – albeit in a lower division.
Indeed, after having to absorb a lot of pressure early on, Caerau were having a good spell and had fashioned a couple of decent opportunities for themselves when Blaenrhondda broke the deadlock after about thirty five minutes with a first time shot from the edge of the penalty area after a half clearance.
At only 1-0 at half time, the game was still anybody's, but the early stages of the second half saw Blaenrhondda taking a grip on proceedings and they doubled their lead when their number nine was put clean through with the Caerau defence appealing for offside. The visitor's keeper was able to keep the first shot out, but the home striker was left with a simple task from the rebound to double the lead.
With the light drizzle of the first hour of the game having turned into steady rain, I decided to make my way home and so missed the goal which completed a 3-0 win for Blaenrhondda, who thereby consolidated their position as the "best of the rest" behind the six sides who have opened up a decent sized gap at the top of the table.
As for Ton Pentre, their fine run since Christmas came to an end with a 3-1 home defeat by Penydarren BGC, so, having played more games than most of the sides below them, they are by no means out of the woods as far as relegation goes yet.
I had intended to also take in City's Academy game with Colchester at Leckwith this lunchtime, but gave it a miss once it became clear that I wouldn't be able to drive to Cardiff to watch it.
I certainly missed out on plenty of goals! The first match between the teams this season ended up in a 7-3 City win and the tally in matches between the two rose to an incredible nineteen today.
When City stormed into a 3-0 lead after just seventeen minutes through Keiron Evans, Rubin Colwill and Frazer Thomas, it seemed like they would outdo the seven they scored at Colchester, but, amazingly, they were behind at half time as the visitors replied with four goals of their own in only thirteen minutes.
Hardly surprisingly, the second half was quieter and City still trailed going into the last fifteen minutes, but Thomas equalised on seventy seven minuted and four minutes later, Taz Maymebe came up with the winning goal to edge City home by 5-4.
Once again, can I make a request for support from readers by them becoming my Patrons through Patreon. Full details of this scheme and the reasons why I decided to introduce it can be found here, but I should say that the feedback I have got so far has indicated a reluctance from some to use Patreon as they prefer to opt for a direct payment to me. If you are interested in becoming a patron and would prefer to make a direct contribution, please contact me at paul.evans8153@hotmail.com or in the Feedback section of the blog and I will send you my bank/PayPal details.