https://mauveandyellowarmy.net/
I can't begin to explain it, writes Paul Evans, but the performance of my internet connection seems dependent on whether there's football on or not. All through the summer I was able to watch the cricket World Cup, Wimbledon, the British Open etc. without a single problem, then football starts again and it's been playing up for the past fortnight.
Today was the worst so far with the problems starting about half an hour before the kick off Cardiff City's third game of the season at Reading today and they got gradually worse until it reached the stage where I gave up watching Sky's coverage of the game after about ten minutes of play.
Judging by what happened in the next half an hour or so, I could well have decided to switch to the England v Australia test match anyway, but, as it was, things improved to the extent that I was able to start watching again just in time to see Reading score their final goal in their 3-0 win and then miss a penalty in added time as Alex Smithies dived to his left to keep out Meite's effort – it was a good save, but just about the most meaningless spot kick stop you could wish to see.
After the poor showing in the opening day 3-2 defeat at Wigan, I said that the only away display from our promotion season which may have compared with it was Derby, well, from what I have read and seen of today's match, that was like one of those 3-0 defeats on a Tuesday night at Preston that we have been prone to in recent seasons. The point is though that two away games played so far in 19/20 and the level of performance in them appears to be on a par with, perhaps, our two worst ones of 17/18.
I've now seen brief highlights of the game and I can only say that it could have been worse than three and I'm sorry, but it seems to me that much of the damage from Wigan and Reading strikes me as self inflicted.
Before I get into what, by my standards anyway, is going to be a rant, I should say that the loss of Marlon Pack, described as the man who never gets injured when he signed for us, to an injury after a quarter of the game must have had an effect on proceedings, given the influence he had on last weekend's generally unconvincing win over Luton.
Once again, our musclebound, lumbering land of the giants side were run ragged by mobile, speedy and technically proficient attacking players. In central defence, our centrebacks are being left exposed in positions where my guess is that they are least comfortable, Joe Bennett is struggling at left back, our midfield looks one paced and our wingers are just not consistent enough to justify the faith our manager has in them – I'm talking here about the concept of playing with two wingers, not the wingers themselves because Neil Warnock is forever changing them.
Okay, I accept that I'm jumping to some conclusions there about today's showing despite having not seen a great deal of it, but what I have seen is pretty instructive.
For example, what on earth was going on with the first goal? Will Vaulks, withdrawn at half time today as he endures a tough start to his Cardiff career, was made to look so slow by George Puscas as he raced past our midfielder and proceeded to beat Smithies with a cross shot, but how did it get to a stage where Vaulks was left so isolated against a forward who obviously had too much pace for him?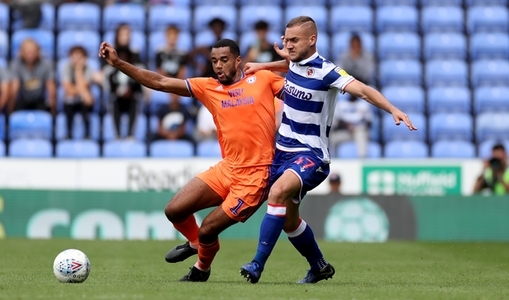 Mind you, having done so well to inject some real pace into a squad which was seriously lacking in that commodity when he arrived at the club, Neil Warnock now seems intent on getting things back to how they were under Paul Trollope and Russell Slade!
Yes, we still have some quick wingers, but defensively we look so short on the speed front, while it's instructive that our two signings in central midfield, Vaulks and Marlon Pack, while being largely appreciated by supporters at their former clubs, were both criticised by them for their slowness.
While I accept that it is early days yet and we do have a lot (too many?) new faces to bed in, I do have serious concerns about the nature of the squad Neil Warnock has put together for this season.
Nathan Blake called what we can expect from this squad over the coming months "Warnockball on steroids" which is a good line, but I would rather see it as a case of putting all of our eggs in one basket, because I genuinely don't think there is another way of going about playing that we could employ well enough to be moderately successful in the Championship.
My fear is that in what seems to me to be, increasingly, a young man's league, we are going for experience with what I wouldn't mind betting is the oldest first choice back four around at this level.
In a division where attacking wit, movement and quick feet are on the increase, we have a defence which I fear a lot of Championship forwards will be rubbing their hands in anticipation at facing and I can't help thinking that managerial stubbornness is at the heart of that as, in what he says will be his last season, Neil Warnock seems to be determined to bow out by creating a team which will outWarnock any other one he has managed.
I've not seen the incident our manager was referring to in his post match press conference when he said " "But for whatever reason we go away from what we were doing, take a short free-kick and end up losing a goal. It's terrible defending." and so it might well be that he has a point (I presume he's talking about the first goal there?).
However, those words of our manager's do give a clue to his thinking in that, instinctively, he appears to think that taking a short free kick has to be a bad thing. Such regimented thinking seems to epitomise the Cardiff approach under this manager. While there has to, of course, be an acknowledgement that, initially, his methods were successful here, as of today, we are coming off a relegation and occupy a position just four places higher in the Championship than when Paul Trollope was sacked.
When Neil Warnock was questioned about criticisms concerning his side's approach in his pre match press conference on Friday, he replied that his team attack as much as they can, but isn't that what every team does? It is not a denial of a defensive philosophy.
I have seen it said that it was an unWarnocklike performance by Cardiff today – I can only think that we could be in serious trouble if it was, because, as mentioned earlier, I can't see us being much good if we tried to start playing in a way less in keeping with our manager's philosophy.
Who knows, maybe nearly three years of playing in such a pragmatic, essentially defensive, fashion where you spend most of the time not having the ball and rely so heavily on attacking set pieces for your goals, has worn down a few of the old hands in the squad and they are yearning for a chance to "break free", hence the short free kick which so upset the manager – having suffered from a couple of seasons of Russell Slade's version of Warnockball before the man himself turned up, I know I am!
As I keep on saying, the only thing that makes the way we play worthwhile is gaining three points enough times to make us a successful team. Without that, it has nothing to commend it whatsoever – football would be dying on its feet if every side played like we do.
Once again, can I make a request for support from readers by them becoming my Patrons through Patreon. Full details of this scheme and the reasons why I decided to introduce it can be found here, but I should say that the feedback I have got so far has indicated a reluctance from some to use Patreon as they prefer to opt for a direct payment to me. If you are interested in becoming a patron and would prefer to make a direct contribution, please contact me at paul.evans8153@hotmail.com or in the Feedback section of the blog and I will send you my bank/PayPal details.