Cardiff City tweeted an artists impression of the completed Ninian Stand fully kitted out with red seats in the upper tier.
The image came along with a lengthy quote from City director Steve Borley who failed to mention the colour of the seats once.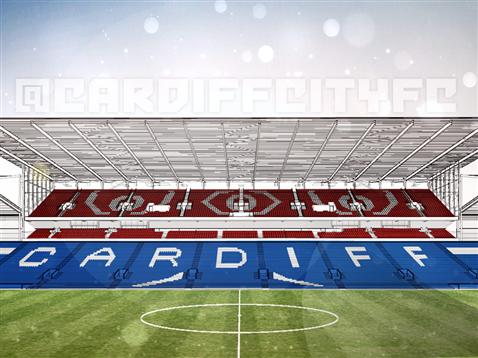 Despite it being two years since the rebrand it's still the main issue dividing fans and while Vincent Tan continues to bank roll the club it seems he will get his way and keep up his one man campaign of trying to turn the club's identity into something that's alien to the supporters.
For all the positives, financially and structurally, the underlying feeling towards the owner is one of bitter resentment for his personal wishes of making the club look like something it isn't.
The new stand will be open for the European Super Cup that takes place on August 12th between Real Madrid and Sevilla. Quite an honour for the club.
"This adds another 5,338 seats to our capacity which is already 28,000, that'll take us just short of a 33,500 capacity for Cardiff City Stadium," said Borley.

"The seats have been brought in to match the quality of the seating currently seen around the stadium and have been brought in from Australia. They are a quality, comfortable and robust seat for supporters to watch their football from. In terms of their layout and design, we've tried to encompass a link with our supporters by using the Ayatollah above the current design of the bluebird wings on existing stadium seats."
Speaking about the Super Cup Borley continued:
"It's great to have such an event to open the extended stadium and you couldn't get much more of a high profile event than the UEFA Super Cup to do so. We look forward to welcoming two giants of Spanish football in August in Champions League winners Real Madrid and Europa League winners Sevilla. We're very fortunate to have secured this fixture and much like our Euro 2016 international qualifying matches with the FAW we are honoured to facilitate such a high profile event here in Cardiff."