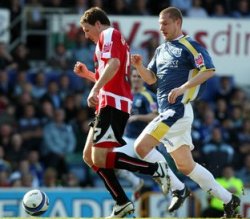 Gyepes "fouls" Henderson to get a red card
He's the referee tomorrow night at the Madejski when City face Reading.
His last game in charge of a Cardiff City team was on March 22nd v Sheffield Utd at Ninian Park.
Inside 33 mins City were down to 9 men after Taylor gave red cards to Gabor Gyepes and Ross McCormack. Utd went on to win 3 - 0 as City battled hard.
The assistants tomorrow are I Cooper and S Margetts. The 4th official is D Rock.