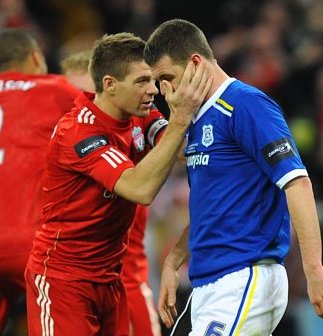 Gerrard) pictured right with his cousin Steven) left the Bluebirds just over a week ago after it became obvious he was not a first choice of Malky's. And he is looking forward to facing his former team mates.
"It was the same when I went on loan to Hull - the first game I played was against Cardiff. It's quite ironic to be honest and I'm looking forward to it," Anthony told
htafc.com
.
"I didn't play enough games last season; I made 27 appearances, which is poor for me. I usually play 40-50 games per season, which I have been used to since I was 19. To go from playing regularly to being dropped for no particular reason was a bitter pill to swallow, so I knew I needed to change.
"I had made my mind up that I needed to leave a lot earlier than the end of the season.
"I'm only interested in myself now and Huddersfield Town. I'm not going out there on Friday to prove a point to Cardiff; I will be going out to prove to myself that I was good enough to play in that Cardiff team. I want to establish myself as one of the best defenders in the League. A lot of people know what I am capable of and that's why the Manager brought me here. Hopefully I can now get back to my true form."
Gerrard has been talking the right talk with his new club. Not content with just being happy to see his new side stay in the Championship after last seasons promotion, Gerrad is looking at a promotion push.
"I expect this season to be very competitive. I haven't joined the football club to be in a relegation battle or to suffer mid-table obscurity though - I want the team to be challenging for promotion. If you don't strive to achieve in your career then you'll end up going backwards.
"Norwich, Southampton and Blackpool have all previously made big impacts in the Championship after achieving promotion. We have nothing to be frightened of. The lads should take a lot of confidence with them from what they achieved last year. By all accounts, they should have gone up automatically, but to gain promotion through the Play-Offs is an even better buzz to be honest."