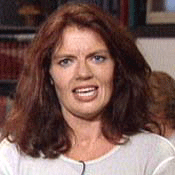 "He came up with several juicy remarks, of a sexual character,"
There appears to be no love lost between the Riise's and Bjorn's former club. Cardiff will sign Bjorn if he is a free agent but Aalesund are trying to get compensation. The big news story in Norway got even bigger when Berit made her claims against manager Ivar Morten Normark.
Riise says that Normark made comments about her sex life in 2001, which she had taken offence to resulting in their bitter relationship.
"He came up with several juicy remarks, of a sexual character," said Riise.
"It's important to say that it was only verbal and nothing physical. But I felt it was very offensive that the man who is responsible for the first team that my son was a part of, sat there and said this to me."
Nomark admitted the subject of sex had come up but it was all a joke
"I have never verbally abused her sexually," said Normark. "This has been taken out of its context. The conversation was a joke where I tried to show her how the whole of Norwegian football sees her.
"As she is football agent I felt it was important to tell how her how she is understood by others.
"I mentioned that mates of mine called me and asked about how I know Berit Riise and about if I have had sex with her, as a joke.
"We both laughed at this and the conversation was with a good tone.
"Now she says that after I had quoted what my mates had said, I said: 'I would have liked to have done that' - something that have I never said.
"I feel like I have been hung out to dry by getting my name mentioned on TV.
"I have never offended her and will never do so.
"I will talk with Berit Riise again. I hope she has thought again and that she only came out with something that she didn't mean."

The end result of this is that cardiff fans are still waiting to here if we will be signing the 19 year old.

Incredibly this is the biggest story in Norway at the moment.