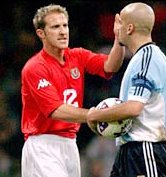 Craig Bellamy is also out with Robert Earnshaw looking likely to play both games.
John Robinson, currently with Cardiff City, retired from international duty last year for family reasons. In August 2002, before Wales embarked on the currect campaign Robinson said
"It was a difficult decision to take, but I had to do what was best for myself. I've been considering it all summer and I didn't think it was fair to Wales to step down midway through the European Championship qualifying campaign.
"I've had seven great years playing for Wales and it's been a real honour, but I wouldn't have been giving them 100 per cent and that's not the kind of person I am."

Mark Hughes at the time said

"He has suffered some terrible family problems with the death of his father.
"He wanted to step down now before we start our European qualifying campaign rather than have to do it later and upset our preparations.

"The door is still open for him if he ever wants to return. He has been a fine team-mate, a great servant to Wales and for me now, and a joy to have had him as a player in my squad now I'm manager."

Could now be the time for Robinson to be persuaded back to the Wales squad. The midfielder is making a huge impression for Cardiff City and would provide valueable experience in the Welsh team.

While every respect is offered to the player he has suggested under questioning that he may consider a return.

Supporters club representitive Mark Watkins is leading the "Robbo for Wales" campaign.

He told me

"Time is running out and it may well be academic anyway, but if the whole "Robbo for Wales" thing gets a push in the press and we join in with a chant at Ninian on Saturday then maybe, just maybe things could happen.

There's been lots of comments on the messageboards - some predictably negative like "Robinson should concentrate on playing for Cardiff" and "We don't want him to get injured playing for Wales", but we need to see the bigger picture here. Most people have to be fair been very positive. The Welsh midfield is decimated as it stands and the thought of Paul Trollope (with all due respect)pitting his wits against Russia's finest fills me with dread.

I don't know what we can do, either on our own or collectively, but surely it must be worth a shot. A few "Robbo for Wales" banners at Ninian perhaps, some organised chanting, Sam getting involved?

It's a long shot I know, but these next two matches are the biggest Wales games in my lifetime and I just want to see our strongest possible team turn out to give us at least a half chance. As it stands, a willing John Robinson would add vital experiance and quality to the Welsh squad."

Should John Robinson play for Wales? Register your vote in the poll on this website and then make yourself heard at Ninian Park on Saturday.