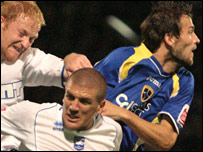 Roger Johnson's 110th minute header avoided a penalty shoot out at Ninian Park and meant we could escape a bit earlier than it looked like we would.
City had once again (like Saturday), dominated the game but had the efficiency of a chocolate fireguard in front of goal.
Steve MacLean and Warren Feeney were given another chance but neither really threatened. They had no answer to the big centre halves. They carved out a few half chances but most times they were muscled out or saw balls fly over their heads. City looked most threatening when the bigger players like Johnson and Purse moved into attack and it was from such a threat we scored. That came 10 mins from the end of extra time when Johnson headed a Steve McPhail corner past Kuipers in the Brighton goal.
City now progress into round 2 of the Carling Cup. The draw tales place on Thursday evening.
The evening's excitement started in the pub beforehand. News was spreading that Sky Sports News had allegedly reported we were £30m in debt and facing administration and a 10 point deduction. As the time passed and we got to the ground the first stories were appearing on the net of a claim against the club issued by a London law firm. Statements from Peter Ridsdale followed and not several hours later it appears we could be heading for a battle in the courts. Langston are claiming they've not been paid monies they are owed. The club are saying they have no contact with Langston but all dealing are being done through Sam Hammam! Make of that what you will. The answer to the question of What the hell is going on? Will take some time to surface but as a fan it's the last thing I need to to be concerned about the demise of the club and I'm sure it's a distraction the club could do without as well. Anyway Peter Ridsdale seems to be confident about the situation.
Back to the game. Just 3,700 or so brave souls dodged the heavy rains before the game to sparcely populate Ninian Park. Early rumours from NigelBlues that Brighton had forgotten their kit and would have to wear City's away kit, were scotched when the Seagulls ran out in a white kit with their own badge and sponsor on it.
The game went as you might expect. Lots of City possession, lots of sideways passing and when an effort was made to push into the atacking third we could not hold the ball up, control it efficiently or find space to get a decent effort in on goal. Brighton were content to soak up the pressure and move forward when allowed to do so. The game followed a similar pattern to Saturday but Brighton weren't as good or as dangerous as Stoke.
City's lack of height in attack was again all to apparant for all to see but the manager. Long diagonal balls were gobbled up by the defence and keeper. Far post crosses the same. When it as played to feet we were out muscled.
It was getting tedious to sit through 90 mins. Another 30 was punishment enough but thankfully Johnson's headed saved us from what would have been a nerve wracking penalty shoot out. They are great when your team is not involved.
So City into round 2. Brighton's 80 or so fans were leaving Ninian Park at around 10.30, well done to them for coming. God knows what time they'll get home.