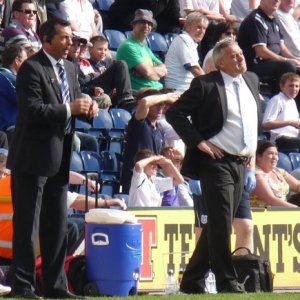 "It doesn't matter what anybody else does because we've got no bearing on that." said Dave Jones after hearing that Norwich scored a late winner.
"We've got to keep applying the pressure. If it's automatic or via the play-offs we've just got to keep going.
"Norwich kept going to the 95th minute and got the goal because they were probably a lot fresher as they had three or four days extra to recover, which is ridiculous."
Jones played for Preston between 1983 and 1984 and added: "Playing two games in three games is very difficult but in the first half today we could have been three or four goals up.
"I played here but this business is ruthless and I came here with the intention of winning the match, regardless of whatever the outcome was."
Phil Brown took responsibiliy for Preston's relegation and bemoaned a challenge by Jlloyd Samuel on Ian Hume. He fails to mention that less than a minute earlier Hume had inflicted the same treatment on Samuel. Brown also whinges about the referee, he was shocking but I thought against Cardiff.
"I've just been upstairs and nearly broken down in front of the supporters because I hold myself responsible for the relegation - end of story," said the former Hull manager, who suffered only the second relegation of his long career in the game.
"You can say you came in too late or that the previous guy in charge was there too long, but I wouldn't have taken the job if I didn't think I could keep the club in the Championship.
"So I hold myself responsible for the relegation. If you look back, we didn't get our first win until too late and after that it was catch-up time.
"The luck that evaded us has evaded us again today."
Preston goalkeeper Iain Turner, on loan from Everton, made a series of fine saves and Cardiff were wasteful after Whittingham's early strike put them in control.
Yet Brown revealed his anger at referee Phil Gibbs, who he felt should have dismissed Cardiff defender Jlloyd Samuel for a heavy challenge on Iain Hume which led to the striker being forced off in the 34th minute.
Gibbs also denied Brown's men at least one penalty and the Preston boss said: "I thought it was a leg-breaking challenge on Iain Hume.
"The lad has got a 12-inch scar from his knee down to his ankle and it was a red card for me.
"A penalty decision would have changed the course of the game and I just don't know what referees are seeing.
"They seem to be courting the glamour more than ever and the more controversial they are the better they are. It's absolute rubbish."
Brown revealed he is already gearing up for life in League One and said as many as 12 out-of-contract players could go in a summer exodus.
He explained: "We've got big decisions to make and already we've signed around 10 to 12 younger pros who will probably go towards being the core of the squad next year."