April 23 1962 was a Monday, in fact it was an Easter Monday and the biggest news item for it I could find was that Ranger 4, the first US satellite to reach the Moon was launched from Cape Canaveral – a fairly quiet news day then! In sport, the newly formed New York Mets, created to replace New York's departed baseball teams, the Brooklyn Dodgers and the New York Giants, won their first match ever at the tenth attempt, while across the Atlantic Ocean in Cardiff, the local football team beat West Ham 3-0 at home.

That win followed on from another one at Ninian Park two days earlier when City had beaten Birmingham 3-2 to record a first league victory since Boxing Day. Having had such a bad run, it won't come as a shock to learn that we were in a relegation battle and the fact that just 8,608 were there to watch it bears eloquent testimony to how optimistic the locals were that their team could beat the drop.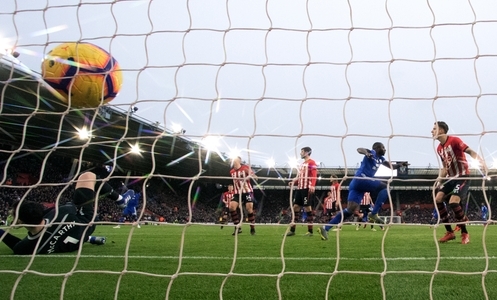 Bamba wheels away after scoring City's first goal at Southampton
Around two and a half thousand people returned to the fold for the West Ham match after the hope offered by the Birmingham game, but a gate 11,274 sent a signal that the people of Cardiff and it's surrounding areas had more or less accepted their team's relegation, which was duly confirmed the following weekend with an 8-3 loss at Everton.

That West Ham game was the last home game City played in the top flight until their never to be forgotten encounter with eventual Champions Manchester City in August 2013 and it also happens to be the last time we recorded consecutive wins in the top section – until today.

The news that it was Emiliano Sala's body which was found in the wreckage of the crashed plane this week (pilot David Ibbotson is still missing and efforts are being made to raise the funds to continue the search for his body) at least offers his family the opportunity to say a proper goodbye to their loved one and City have offered to arrange for the striker who never played for us to be returned to Argentina for that purpose.

While it would be wrong to conclude that the finding of Emiliano's body brings an awful chapter in the club's history to an end, I think it's probably fair to say that it does offer the chance for Cardiff City and all who are associated with it, be they employees or supporters, to begin the process of moving on from it – certainty exists now where there was previously none.

I need to be careful how I word this next bit, because, on the one hand, nothing good can come out of the sort of event that sees two men lose their lives in a plane crash. However, on the other hand, you only had to see the way players and supporters celebrated both of our goals in the stunning win at St Mary's today against Southampton to realise that what was a strong bond anyway between this City squad and those who watch them has been strengthened considerably by the events of the last three weeks.

If you go back three weeks from today, we had just followed up an abysmal display in a 0-0 home draw with a Huddersfield team that, following today's home loss to Arsenal, have been beaten twelve times in their last thirteen matches in all competitions, with a 3-0 beating at Newcastle which enabled the Geordies to move out of the bottom three at our expense.

Neil Warnock tried to make out we had not played too badly on Tyneside, but the large majority of supporters were not buying it from our manager this time. It was the latest in a series of dreadful showings since the turn of the year in which we had not managed a single goal – then again, it's pretty tough scoring when you were barely managing an on target goal attempt over the ninety minutes!

Even allowing for the natural pessimism of supporters which tends to go into overdrive when their side is playing like we were for the vast majority of January, it was hard to put together any sort of argument that we could stay up – indeed, now we were back in the bottom three, it was becoming accepted that we would not be getting out of it again before May.

The only bright spot on the horizon appeared to be the confirmation that day of a striker arriving from the French club Nantes for a club record transfer fee – a striker who was not at St. James' Park to see his new team play because he felt he had to make one more journey back to France to say his goodbyes to friends and old team mates……………….

It would be ten days before City played again and I think there were many fans fearing the worst for their team, which had been put through the emotional wringer in that time, when they faced Arsenal at the Emirates. Instead City, urged on by brilliant travelling support, responded with heart, grit and some style as they enjoyed the better of the first half before succumbing to a couple of second half goals by the home side, but, importantly, Nathaniel Mendez-Laing was able to end the scoring drought late in added time.

That performance was dismissed by some as an understandable reaction from a bunch of footballers finally getting the chance to get out on the pitch and do what they do best as a release from the horrors of the last week. When, with due respect to Leandro Bacuna, the transfer window closed in anti climactic fashion a couple of days later, it wasn't too much of a surprise to see opinions as to City's onfield future being as sombre as the mood around the club since it had become clear that Emiliano was on the plane that was announced as missing on a flight from Nantes to Cardiff on the evening of 21 January.

It was harder to maintain a glass half empty attitude towards the football though after last Saturday and a win over Bournemouth which apart from, perhaps, the Fulham game back in October, was our most comfortable of the season so far – that was a day when I felt proud to be a Cardiff City fan for a variety of reasons.

Now, we get this amazing win made all the sweeter by the fact that not only did we join Wolves as the team with the most wins (three) gained by goals scored in added time at the end of the match in the Premier League this season, we also did it after Southampton had equalised in the first minute of added time!

The madcap last few minutes of the match almost, but not quite, made one forget the pretty turgid nature of much of what went before it. The first meeting between the teams a couple of months ago had been a dour affair played out on a bleak cold and wet afternoon that we had, deservedly I feel, just edged thanks to the last goal Callum Paterson managed to score in his makeshift striker role.

This one had the same feel about it with the home side, in a far better run of form than they were when they came to Cardiff, looking the more dangerous team, but City, with Harry Arter back in place of Josh Murphy as the only change from the Bournemouth match, not having too many problems in keeping the them at bay.

When it came to attacking though, it was turning into a fairly typical 18/19 away game for City – Oumar Niasse wasn't as effective in his hold up play as he was in his two previous games, but didn't do too badly overall, while Bobby Decordova-Reid found it tougher going than he had done a week earlier.

Callum Paterson, again being used in a right sided role which I find difficult to define, was, if anything closer to being a wing back this time as Lee Peltier, again showing that, somewhat to my surprise, he can be an effective defender at this level, was given a man marking job. However, it was the versatile Scot who had seemed to offer our best chance of coming up with a goal solely because he was showing an ability to get above the home centrebacks to flick on the few crosses or long throws we were able to put into the home penalty area.

The match continued along a path suggestive of it being decided by a single goal until it entered it's final quarter when City finally won their first corner. Back in August, there was much talk of how attacking set pieces were going to be so important for us if we were to stand any chance of surviving in this league, but, although we have managed to score occasionally from them, they have, if anything, been a net weakness for us with a number of poor goals conceded.

This time though, Paterson did the business by glancing on Joe Ralls' away swinger – his header would have probably gone narrowly wide if it were not for Sol Bamba showing the instincts of a striker to steal a yard on his marker and nudge the ball home from about four yards out.

The player who more than any other is the heartbeat of the team celebrated his goal by jumping a fence (and almost taking out a steward in the process!) to join the fans who poured forward to greet him – as more players joined in it seemed than team and supporters were as one and, again that "we can't be beaten" feeling that permeated the Bournemouth match could be felt.

Predictably, a Southampton side that had not tasted defeat in the league this year reacted strongly to going a goal down in such a crucial match as Neil Etheridge was finally called on to make a few saves and we needed a combination of our keeper, an element of luck and some great last ditch defending by Peltier to survive a madcap, pinball, goalmouth scramble.

As the clock ticked past the ninety minute mark, City seemed on their way to their second 1-0 away win of the season, only for that set piece weakness to surface again. James Ward-Prowse has a reputation for being a dead ball expert, but the corner he swung in this time didn't seem particularly dangerous until sub Charlie Austin got a slight touch on it which seemed to wrongfoot most of our defence and Bamba and Joe Bennett were unable to prevent Jack Stephens from tapping in on the far post.

With the momentum now behind them, Southampton had about three minutes left to get a winner, but when their hero Stephens carelessly gave the ball away in his own half, far from looking to run the clock down, City sprang forward in stunning fashion – Ralls, showing great drive for so late in the game, supplied the impetus, sub Victor Camarasa fed Paterson who crossed and when the ball was half cleared back to him, he showed his heading ability again to pick out Harry Arter.

Incredibly, City had five players in the penalty area in the ninety fourth minute in a break from open play now, but Arter was unable to take what was a reasonable opportunity to register his first Cardiff goal as he sliced his volley into the path of Camarasa, who showed great composure to tee up Kenneth Zohore who netted a long overdue first goal of the season with a bobbly left footed effort which went in off a post.

Cue pandemonium in the away section again as Zohore became the second player to be booked for the nature of his goal celebration – whatever the rest of the season has in store for us, this was a moment which joined one or two others (e.g. Camarasa's goal at Leicester and Junior Hoilett's against Wolves) in being truly memorable.

Zohore's goal gives him something tangible to go with improved performances of late and, along with Camarasa's part in the creation of his goal, Bacuna's impressive half hour or so as a replacement for Aron Gunnarsson meant that all three substitutes had contributed fully to the win. The three points gained take us a point above Southampton and Newcastle (who play at Wolves on Monday), eight above Fulham (3-0 losers at home to Manchester United) and fourteen above Huddersfield – even the bad news of Burnley maintaining their improvement with another win had a silver lining in that it was Brighton they beat, so the south coast club have to now be considered to be in the relegation scrap as they sit just two points above us.

If the first team match was a typical relegation six pointer for most of it's course, then the Under 18's lunchtime demolition of Bristol City at Leckwith was a pleasure to watch as they stylishly increased their lead at the top of the table to six points with a 5-0 win which did not flatter them in the slightest.

Fielding a team that featured more regulars than there were for their last game against QPR, but was still missing players such as Joel Bagan, Keenan Patten and Dan Griffiths who have all turned out for the Under 23s in recent weeks, City were grateful to keeper George Ratcliffe in the opening minutes for a couple of good stops and the visitors were unlucky when Edwards-Taylor shot from the edge of the penalty area rebounded back off an upright.

However, once City had settled down, they began to play with a fluency and invention that their opponents could not match – indeed, most of their attacks after the opening ten minutes revolved around the enormous thrown ins of their left back Larkin.

City's first goal arrived in the fifteenth minute when they swept the ball from left to right and Sion Spence was freed to confidently strike a shot from the corner of the penalty area that was always out of the reach of keeper Robertson. Within a minute, Spence had his second as he capitalised on a wayward pass by one the wurzels' central defenders to score from a similar range as his earlier effort.

Spence and Trystan Jones both had a couple of chances each to add to the lead before half time and there were opportunities for others as City looked every inch a top of the table outfit against opponents that had pipped them by 1-0 in the reverse fixture in the autumn

Any hope Bristol had of a comeback ended when, just as in the first half, they were hit with a couple of quickfire goals. The first arrived on forty nine minutes when Ntazana Mayembe was freed down the left and with the unmarked Spence waiting on the far post for the chance to complete his hat trick, the ball was diverted into his own net by the visitors number six Spark.

Spence would only be denied his hat trick for three more minutes though as this time he was able to easily convert another quality Mayembe cross from close in to make it 4-0.

Their job done, City's intensity dropped a little and the visitor's had their best attacking spell of the game before right wing back Connor Davies' second incisive burst into the area of the half was rewarded on seventy seven minutes when he scored at the second attempt after Robertson had blocked his first effort.

This was the third time City have scored five in a home game this season and I rated this latest big win above the earlier ones against Colchester and Charlton – especially when you consider that our team was some way short of what would be seen as our strongest one at this level.

Spence of course will get most of the kudos after his hat trick, but I thought Sam Bowen was excellent today. He ran the game from central midfield showing the sort of languid skill and movement that marked his father out as footballer with a lot of natural talent, while there was a strength on the ball from him which had not been so noticeable to me in the past.

I also really enjoyed the contribution of Rubin Colwill. A messageboard contributor who was at the game compared him to Jason Fowler and I can see what why he did so – some tall players have an elegance to them which somehow seems to be magnified because of their height and, with an outrageous piece of footwork on the bye line to create a first half chance that wasn't taken especially, he also showed a Fowler like level of skill on occasions.

Just a quick word about my local teams as well – I was surprised to learn that Blaenrhondda FC's home game with Treforest FC went ahead after all of the recent rain, but they took advantage to beat one of their promotion rivals 4-1 thanks to goals from Ceiron Beer, Shane Davies, Liam Thomas and Josh Talbot. Meanwhile, Ton Pentre's match at Cwmamman was abandoned at half time with the home side 3-2 up, so the Bulldogs remain in trouble near the bottom of their league.
http://mauveandyellowarmy.net/
Once again, can I make a request for support from readers by them becoming my Patrons through Patreon. Full details of this scheme and the reasons why I decided to introduce it can be found here, but I should say that the feedback I have got so far has indicated a reluctance from some to use Patreon as they prefer to opt for a direct payment to me. If you are interested in becoming a patron and would prefer to make a direct contribution, please contact me at paul.evans8153@hotmail.com or in the Feedback section of the blog and I will send you my bank/PayPal details.FacebookTwitterGoogle+Share