The funeral of Emilano Sala is taking place in Argentina this afternoon.

Neil Warnock and Ken Choo have traveled to South America to pay their last respects to the young striker who tragically lost his life while on his way back to Cardiff from Nantes ahead of starting his new career in south Wales.

Warnock said: "He was my player, he signed for me. I think he was going to be very instrumental in what we were looking to do.

"I feel that it's the only good thing you can do. I think family, they put it in perspective. I think family is so important.
NW at Emiliano Sala's funeral in Argentina "Things like this don't happen in football. I have been a manager nearly 40 years and I've never known anything like this. It has been so emotional. People say 'he never played for you' but he was my player. I chased him, I wanted him." pic.twitter.com/7v57kGGYG3

— Cardiff City Mad (@cardiffcitymad) February 16, 2019
"I think everything here today has shown how important it is. Mercedes, the mother, and Romina (Emiliano's sister) and the Dad (Horacio), they have all been so emotionally involved with the whole village, not just the family."

A memorial service in the town of Progreso, where Sala learned to play football, was followed by a funeral service in Santa Fe.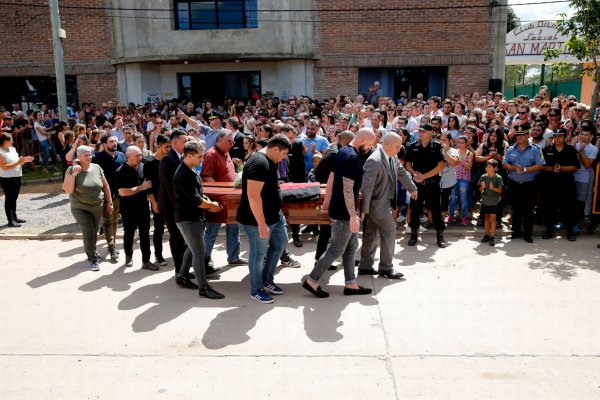 Sky News' sport correspondent Martha Kelner was at the scene and said: "It's very emotional inside. There's lots of tears, lots of hugging and there's this constant stream of people in and out.

"Progreso is a town of only 3,000 people, so everyone here really does know everyone and there's an enormous amount of affection for Emiliano Sala, who is a little bit of a hometown hero here."

Emilian Sala RIP.

The search for pilot David Ibbotson goes on with the Go Fund Me page raising almost £250,000 of it's £300,000 target. Donations of £27,000 from Kylian Mbappé and £50,000 from Vincent Tan have helped the cause as the family of David search for closure.

A truly shocking event in the history of Nantes FC, Cardiff City FC and for the friends and families of all those involved.