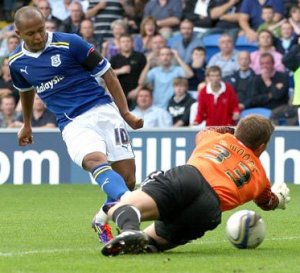 Robert Earnshaw has been talking about his experiences in Israel as the country exchanges fire with Palestine.
"It has been a very strange and uncomfortable few days. These raids have taken us all by surprise. Tel Aviv is normally a great place to live with a great lifestyle outside of football.
"These attacks are rare even for the locals. I have been really enjoying my time here, but if I ever felt that myself, or my family, was in any danger I would have to reconsider things."
A training session was also brought to an abrupt halt when a siren sounded and all the players, along with dozens of children, fled into their dressing rooms as a rocket was intercepted several hundred feet above their training camp.
Earnie continued: "I looked over to my left and saw all the Israeli guys, who had all done three years' service in the army. They knew exactly what was going on.
"One of them shouted that we had to take cover up by the side of the dressing rooms, so we just ran after them.
"Then we heard a loud bang of the Iron Dome – a new protection system used to intercept rockets. We then had to protect ourselves from all the shrapnel coming down."
On Saturday Maccabi played despite a raid taking place just 45 minutes before kick-off. The 7,000 supporters who attended the game were given emergency instructions.
"It was a stupid decision. But it is amazing how quickly life returns to normal around here. It just shows how confident and determined these people are to get on with their lives.
"The army and defence system here still seems to be very good, but it's not something I thought I'd have to experience in my football career. You don't hear about the war in Tel Aviv. It's a family-orientated place.
"Unless something major happens, I still want to play my football out here. I do miss Cardiff, but we are top of the league and I want to see us get into Europe."
Malky Mackay and Cardiff City are keeping a close eye on what's happening.
The City boss said: "If there's any risk to his safety or security whatsoever then he comes back. We've been monitoring things and if he feels at all like there's the possibility he's beginning to feel unsafe or he doesn't want to be there then he immediately comes back.
"There's absolutely no issue with it, he's my player and we want his safety and to make sure he's well looked after."