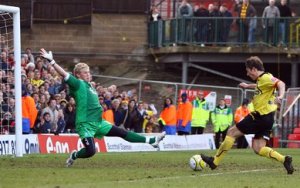 He leaves Ninian Park after a successful loan spell that saw City move from relegation candidates to play off contenders.
It's been suggested that he could have stayed for two more games. He would have been cup-tied for this weekends FA Cup clash with Chasetown but there was talk that Sven would have allowed him two more league games.
Schmeichel though is going back to challenge for a first team place at Eastlands.
We wish him the best of luck.