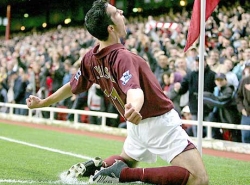 "Sol Campbell, Jens Lehman, Thierry Henry and Francesc Fabregas will be rested," said Wenger at his press conference. "But Van Persie will play."
Cardiff will still face a daunting task with players like Van Persie, Bergkamp, Ljungberg, Pires and Gilberto likely to play.
Thierry Henry will probably miss Arsenal's Carling Cup game next Tuesday as well.
"There is always a danger when you rest your regular players but, as well, you have to accept that you must rest them at some stage of the season, especially after a Christmas period which was quite intense for us," Wenger continued.
"Sometimes it is better to play a player who is fresh than one who is tired.
"Fabregas is 18-years-old remember and Henry has played four games in nine days."


Likely Arsenal squad: Almunia, Poom, Lauren, Eboue, Cygan, Toure, Senderos, Gilberto, Flamini, Song, Reyes, Pires, Ljungberg, Hleb, Van Persie, Bergkamp, Owusu-Abeyie.